Board of Directors Roster
Board of Directors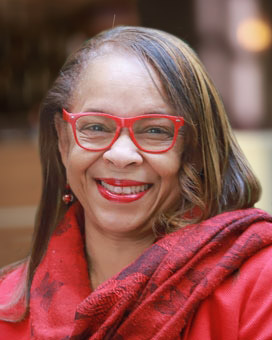 Sandra Smith
President
Serving on DRC's Committee(s) – Ex-Officio of all committees
Sandra has a B.A. in Child Development and certificates in culture and diversity, clinical, social, and behavioral compliance.
Sandra has been active with several organizations and boards, including Behavioral Health Action, UC Davis institutional review board, California State Council on Developmental Disabilities (SCDD).
Sandra Smith describes herself as a "seasoned disability consumer, parent, and child advocate trainer." She is the parent of 36-year-old Chad, an artist who is autistic and African American. "Autism and being a black male can create many civil rights concerns." She is passionate about helping families in need of advocacy, particularly as it related to intellectual developmental disabilities.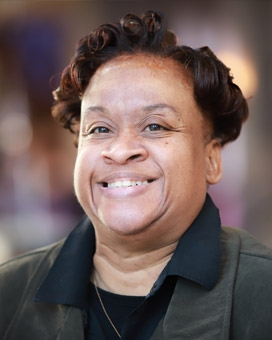 Deaka McClain
Chair
Serving on DRC's Committee(s) – Executive, Governance, Community Engagement (Chair), PAIMI Advisory Council
Deaka has a B.S in journalism from Cal State Long Beach and received her Master's Degree in Public Administration and two graduate certificates in urban Executive Management and Employer-Employee Relations and Personnel Management.
Deaka has been active with several organizations and boards, including the Citizens Advisory Commission on Disabilities, Harbor Regional Center Client Advisory, and LA Care Health Plan.
She was born with cerebral palsy and weighed just a pound-and-a-half. Doctors were not sure if she would live. Because of her background, Deaka has made it her mission to tell her story – including her advocacy work that began in college when she advocated for reasonable accommodations.
Her motto in life is, "She lives her life with the mindset of making a difference and being a voice for those who cannot speak for themselves."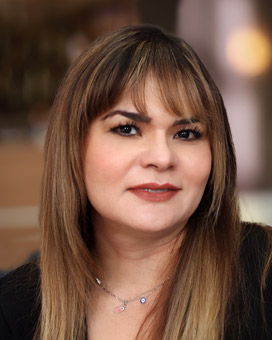 Mariza Ochoa de Anzar
Serving on DRC's Committee(s) – Public Policy, Program & Planning, Community Engagement
Mariza Ochoa is working towards obtaining a Bachelor's degree from the University of the Pacific to become a Spanish literature teacher. She was the winner of the Jan Good Award in 2019.
She is a former president of "Fuerzas Unidas," empowering families with children who have a disability through education and advocacy. Since 2017, she has been a member of California's Gamaliel organization, fighting for equal opportunity for all communities.
She advocates for families with children with disabilities, fighting for social justice and equal rights in housing, migration, and education for those where not knowing the language impedes learning about their rights. She focuses on barriers to education and comprehensive development.
Mariza lives in Stockton and is the mother of a 10-year-old boy diagnosed with autism, apraxia, and ADHD.
"I am very excited to belong to the Board of Directors of DRC because they fight for children and families to have a better life."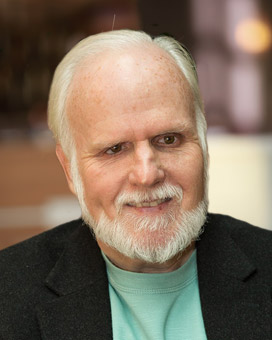 Ralph Black
Serving on DRC's Committee(s) – Executive, Public Policy (CHAIR)
Ralph Black, who has been blind since childhood, became interested in disability rights as a student at California State University Long Beach and then also graduated from Loyola University Law School. He later worked in the Legal Affairs Division, Chancellor's Office for California Community Colleges, where he worked as Assistant General Counsel and then as General Counsel.
Along with his success include that he and other students successfully led an advocacy campaign to have the Legislature provide public funding to support programs for students with disabilities at all public colleges and universities in California. His advocacy work eventually led to an invitation to the signing of the Americans with Disabilities Act in 1990.
Since then, Ralph has been active in several disability rights organizations, including Californians with Disability Rights, the State Bar Committee for Legal Professionals with Disabilities, and the Association of California State Employees with Disabilities.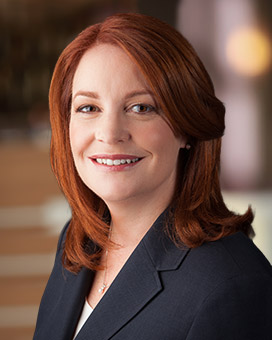 Alison Brunner
Serving on DRC's Committee(s) – Executive, Governance (Chair)
Alison Brunner is the CEO of the Law Foundation of Silicon Valley, a leading nonprofit that uses the law to address social injustices like poverty, inequity, discrimination, and child abuse and neglect. The Law Foundation provides free legal services to over 10,000 low-income people annually in three areas of critical need – housing, health, and children – in addition to engaging in a wide-range of systems change work.
As a disability and housing rights attorney, Alison has fought for access to justice and equity for all members of our community for almost 25 years. She obtained her bachelor's degree in political science from the University of California, Los Angeles, and juris doctor degree from Santa Clara University Law School.
Sheri Farinha
Serving on DRC's Committee(s) – Finance, Public Policy, Community Engagement
Sheri Farinha is a nationally known civil rights activist on behalf of deaf and hard of hearing people. She has been the CEO for NorCal Services for Deaf & Hard of Hearing for more than 25 years. She graduated from California State University, Northridge, with a Bachelor's degree in Liberal Arts, and a Master's Degree in Special Education-Deaf focus.
Sheri began her activism more than 35 years ago. She assisted in passing SB 1211 which provides dates for testing a new Text-to-911 service in California. She served as president of the California Association of the Deaf and was the DeafLife Deaf Person of the Year in 2012. Sheri is responsible for facilitating the creation of the Disaster Response Interpreter (DRI) curriculum after speaking with the late Richard Devylder, Director of the California Governor's Office of Emergency Services. Recently this training became very important during the coronavirus pandemic.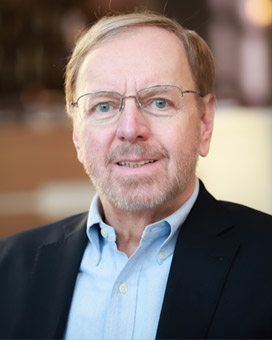 James "Jim" Janz
Serving on DRC's Committee(s) – Finance, Governance
Jim Janz holds degrees in Civil Engineering and Urban Planning, and a J.D. and MBA from the University of Chicago. He has an extensive background in public service, serving on the Planning Commission and City Council for Atherton, California, including serving twice as mayor.
He has been involved with many organizations and boards, including the San Francisco Hearing and Speech Center and the Squaw Valley Community of Writers.
Jim became involved in the disability community when he & his wife Kathy were told their son was developmentally delayed, and their family had to advocate for their son's rights.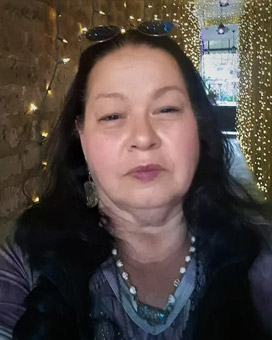 Imari S. Nuyen-Kariotis
Secretary
Serving on DRC's Committee(s) – Executive, PAIMI Advisory Council (Chair), Community Engagement
Imari S. Nuyen-Kariotis is a life-long disability rights advocate, having both professional and personal connections to the disability community and disability policy researcher, focusing on federal, state, and local issues related to housing, transportation, public access, and emergency management. Imari went to college to become a Paralegal. Imari is a primary caregiver and is the Chair of the Imperial County Political Council where we are advocating for and responding to the rights and needs of people with disabilities and seniors, their caretakers and empowering the community-wide resilience, and optimizing outcomes for all.
Imari is a multiple disabled women (intellectual, developmental, and physical disabilities) who has Autism and Bipolar Disorder. Imari is a bi-sexual activist of color, with grassroots organizing experience on the local, state, and national levels. To help ensure those in marginalized communities, especially those who are multiply marginalized, are heard. Imari has dedicated her life advocating to end the institutional bias, and making systems change that allows all people with disabilities to have the right to live in the community with the services and supports needed to live independently- just as her daughter Caurel has been able to for the past 29+ years. Caurel is autistic, epileptic, aproxic (she does not speak), and bipolar.
Imari is also a Domestic Violence survivor and mental health advocate with lived experience. She currently lives in Salton City California a very remote area that is also a big part of her disability work for rural communities with her family: her second husband John Kariotis Jr, son Anthony Nuyen, daughter Caurel Nuyen and my youngest son Seth Gray. Imari's love for life, outgoing personality, passion for music and art, love of sci-fi, and acting, not caring who is watching or what they are saying and just being herself. Her marriage to John Kariotis Jr has been an inspiration for what a relationship can be. You see the love they have for each other and how humor is such a big part of making it last.
Imari has worked many disasters, from historic flooding, hurricanes, fires, earthquakes, and up to the Covid-19 Pandemic. Imari's expertise lies in integrating leadership, design, and organization. For over nearly two decades of disability community-focused disaster response, she has proven to be particularly adept at problem-solving and understanding the principles and requirements for leading in disability rights community organizing, disability-led disaster response, and empowering community resilience and optimizing outcomes for all locally, statewide, nationwide, and across the world. In developing this body of knowledge, it has earned her reputation as an SME (Subject Matter Expert) in disaster services for people with disabilities.
Imari joined the board of Disability Rights California in 2019 and sits on the Executive, Finance, DRC Ad Hoc Governance, Principles Ad Hoc, Bylaws Committee, and Co-Chair of PAIMI (Protection and Advocacy for Individuals with Mental Illness Act) Advisory Council. The Council members give advice about services for people with mental health disabilities. We review PAIMI goals and priorities. We assist with the annual PAIMI Program Performance Review process.
Imari is also involved in various Non-Profits and advocacy groups there's DRUUMM, EqUUal Access, Disability Integrations Solutions and Riverside Dickens Festival to name a few. Imari Kariotis is an embodiment of the philosophy: "Nothing About Us Without Us" -"I want to advance DRC's mission by being able to use my expansive knowledge in organizing, disaster response, and disability rights to ensure the disabled community is in the forefront and never an afterthought."
In her nonexistent free time, Imari loves to act, to go on car trips with her husband, play with her three cats, and her Queensland Healer Creamy, create art, poetry, howl at the moon and be there for her community.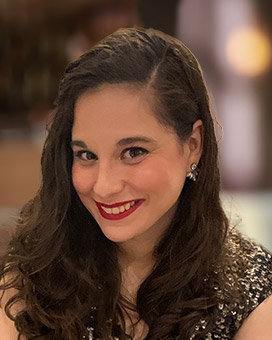 Jillian Parramore
Serving on DRC's Committee(s): Public Policy, PAIMI Advisory Council
Jillian Parramore has a B.A. in Applied Arts and Sciences Liberal Studies, emphasizing Elementary Education and Bachelor's in Child Development with a credential.
Jillian has taught early childhood, elementary, middle school, and university level for the past ten years. For the past six years, Jillian has been training special education departments on inclusive education in school districts throughout Southern California. She also provides health education for her community through People First of California. She also volunteers for Beyond Awareness Celebration events in school districts. Jillian participated in TEDxChula Vista to discuss inclusion in society through her lived experience with Cerebral Palsy and living on the Autism spectrum. The video can be found here. 
Jillian and her partner live together with their three rescue dogs, including Starbuck, a 21-year-old chihuahua.
"Serving on the Board of Directors for DRC is important to me because it gives me the opportunity to serve my community in California and to create a more inclusive society for those with disabilities in this beautiful state that I call home."
Katherine Perez
Serving on DRC's Committee(s) – PAIMI Advisory Council, Community Engagement
Katherine Perez is Executive Director for The Coelho Center for Disability Law, Policy, and Innovation. She holds a Juris Doctorate degree from UCLA School of Law and is a PhD Candidate in Disability Studies at the University of Illinois at Chicago.
Katherine received the 2018 American Association of People with Disabilities Paul G. Hearne Emerging Leadership Award, and she co-founded the National Coalition for Latinxs with Disabilities. Serving on the Board of Directors for DRC is important to Katherine as she believes the position provides her an opportunity to bring all sides of herself (activist, academic, policy-work, and attorney) to the table and give back to the disability community in California. She is a queer, disabled Latina with psychiatric disabilities. Her sister is autistic and has intellectual and psychiatric disabilities.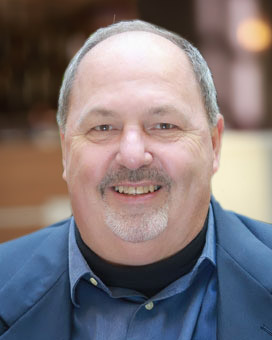 Anthony "Tony" Sauer
Treasurer
Serving on DRC's Committee(s) – Finance (Chair), Executive, Governance
Anthony received a Master's degree in Management and Disability Services from the University of San Francisco. He also served as a Fellow at Sierra Health Foundation and University of Southern California (USC) School of Policy, Planning and Development's Health Leadership Program.
He began his advocacy career as the Executive Director FREED Center for Independent Living and then later as the Director of the California Department of Rehabilitation. Anthony is a long-time disability rights activist and has been a paraplegic for more than 40 years. He has been involved with many organizations and boards, including the State Administrators of Vocation Rehabilitation's Human Resource Development Committee and the California Foundation for Independent Living Centers.
For more than 25 years, Anthony has worked in some capacity next to Disability Rights California (DRC) and has always respected DRC's efforts and passion. He has four daughters, two grandchildren, enjoys woodworking and used to be a motorcycle racer and mechanic. He lives with his wife, Katherine, in Grass Valley, California.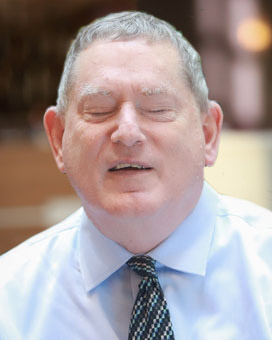 Jeffrey Thom
Serving on DRC's Committee(s) – Executive, Public Policy, Program and Planning (Chair); PAIMI Advisory Council
Jeff Thom has been an advocate for the rights of people with disabilities for more than four decades. After graduating with a B.A. in political science from Willamette University, he received a law degree from Stanford University. He then spent a year working for what is now Disability Rights Legal Center, before joining California Office of Legislative Counsel, where he has been Principal Deputy Legislative Counsel overseeing drafting bills and legal opinions in health and human services.
He has been and is currently active with both National & state organization boards, including California Council of the Blind, American Council of the Blind, Sacramento Society of the Blind, National Disability Advisory Council for Centene, and Sacramento Regional Transit Mobility Council.
Jeff, who was born blind, is married and a parent to both biological and foster children. He is also a grandparent and host-parent to 10 foreign exchange students.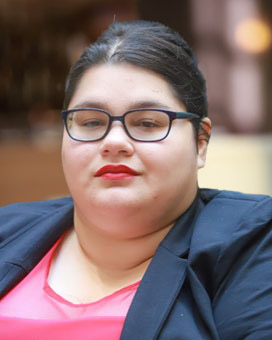 Yolanda Vargas
Serving on DRC's Committee(s) – Community Engagement, Program & Planning
Yolanda has been and is currently active with many organizations and boards, including working for Inclusive and Transformative Healthcare, where she reviews grant applications to make sure proposals will positively influence people with disabilities and building self-advocacy skills for the World Institute on Disability.
Yolanda, who is disabled, spends her days helping youth with disabilities become self-advocates for themselves. It wasn't until her little brother was born with Down syndrome that she realized people with disabilities have to fight for the right to exist in their communities. She says, "She wants to ensure future generations of people with disabilities can maintain and gain the rights they deserve."
Yolanda is a Latinx woman who identifies as pansexual and has multiple disabilities: including mental health disabilities and a developmental disability that manifests in the form of physical limitations and wheelchair use. As a Disability Rights California board member, Yolanda wants to provide insight into serving and reaching marginalized communities.