Disability Rights California is happy to announce the Special Education Rights and Responsibilities Manual website - Spanish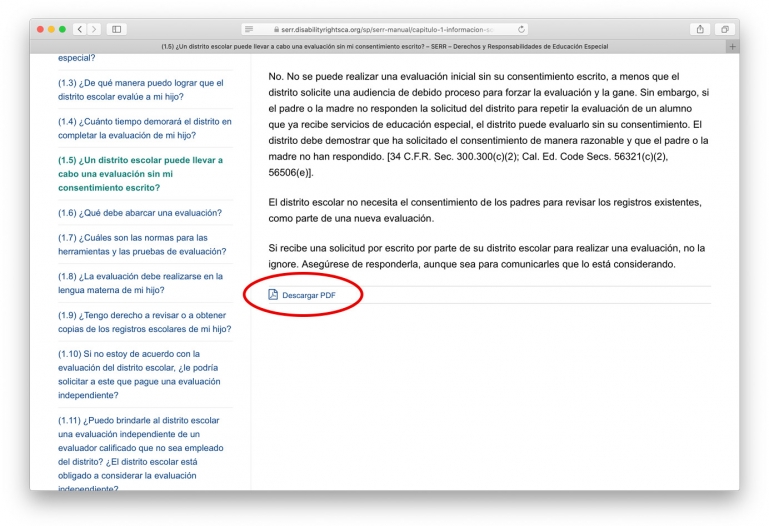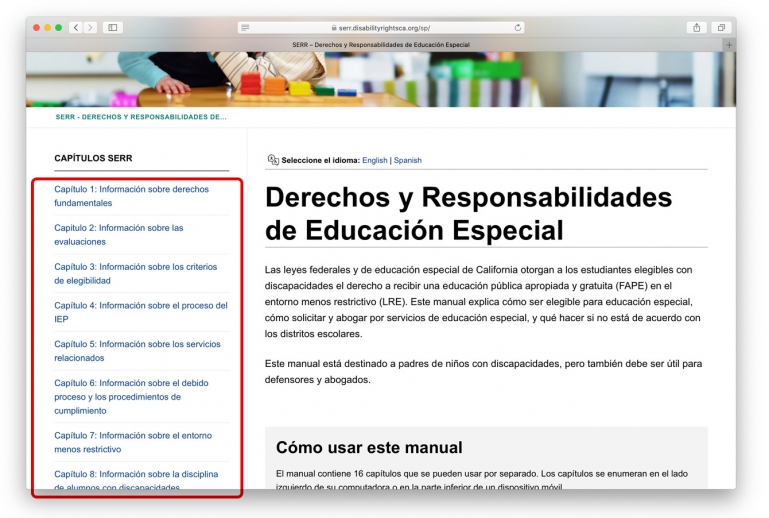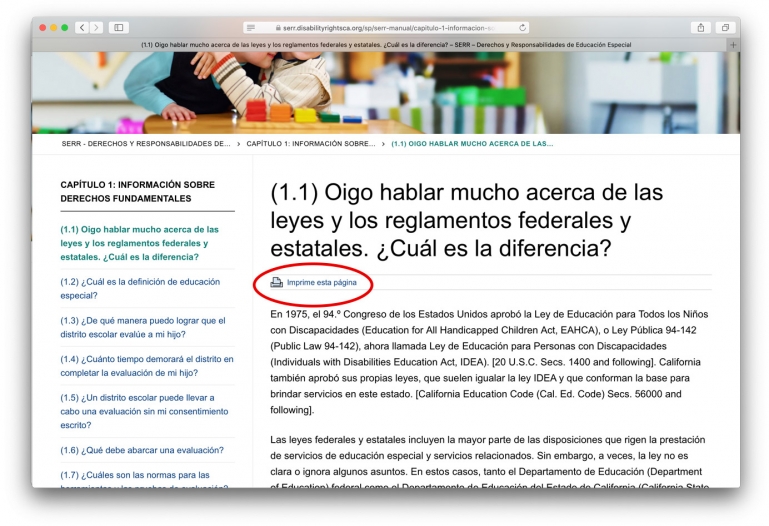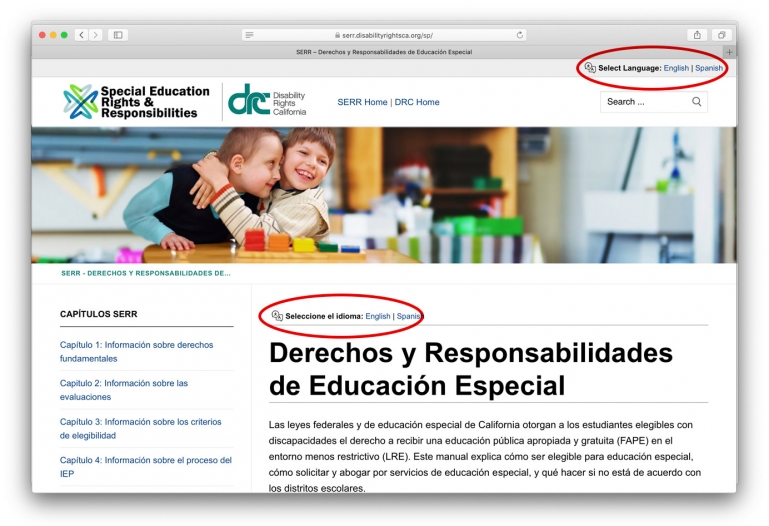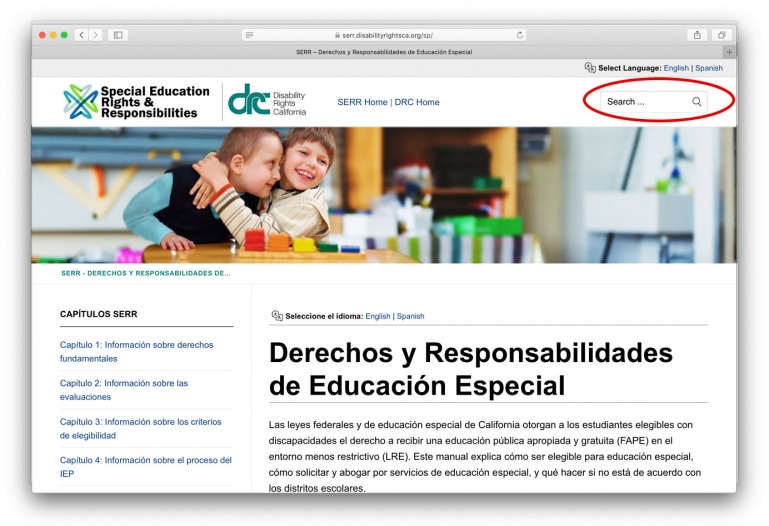 This is intended for use by parents of children with disabilities, but should also be useful for advocates and attorneys.
¡Disability Rights California
se complace en anunciar que el sitio web de manual de Derechos y Responsabilidades de Educación Especial
está disponible en inglés y español!
También puede encontrar en el sitio web principal haciendo clic en la sección de recursos, a continuación, seleccione el manual SERR en la parte inferior de la página.
¿Qué es el Manual SERR?
El Manual de Derechos y Responsabilidades de Educación Especial explica cómo:
Ser elegible para la educación especial;
Cómo solicitar y abogar por servicios de educación especial; Y
Qué hacer si no está de acuerdo con los distritos escolares.
Esto está destinado a ser utilizado por los padres de niños con discapacidades, pero también debe ser útil para los defensores y abogados.
¿Qué información cubre?
Evaluaciones
El proceso del IEP
Servicios de transición
Y más...
Navegar por el Manual en el sitio web
¿Cómo selecciono mi idioma?
Seleccione el idioma en la parte superior de la página en el lado derecho o directamente encima del encabezado PRINCIPAL SERR.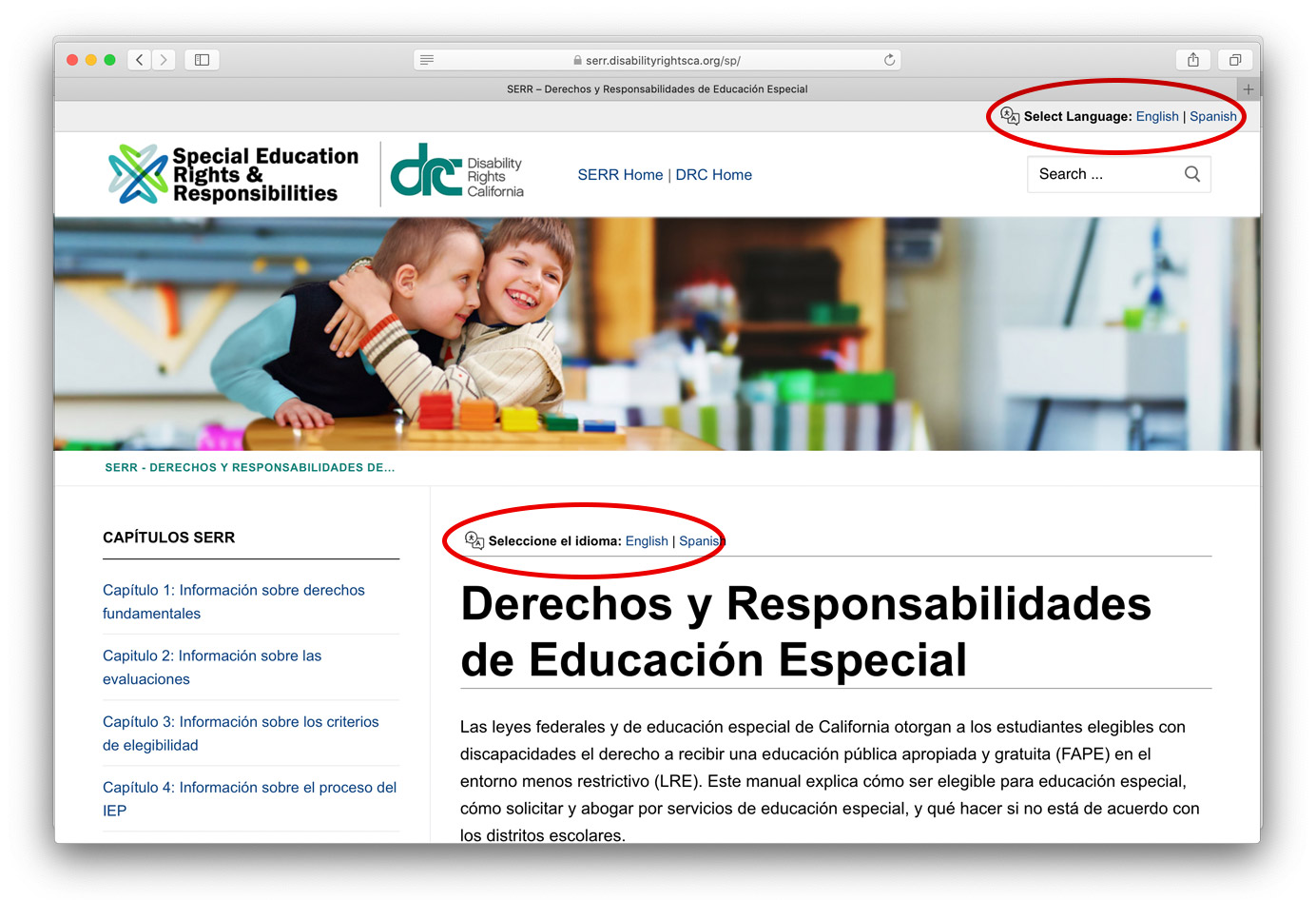 ¿Cómo encuentro los capítulos?
Los capítulos están en el lado izquierdo de la página en orden del 1 al 16.
Cuando selecciona un capítulo, aparecerá en el lado derecho de la página, mientras que la lista de capítulos permanecerá en el lado izquierdo para facilitar la navegación. Una descripción del capítulo estará bajo el encabezado principal y cada sección del capítulo se enumerará a continuación.
Una vez seleccionada una sección de capítulos, por ejemplo, el capítulo 1.1, las secciones de capítulos adicionales (Capítulo 1.2, Capítulo 1.3, etc.) se ubicarán a la izquierda para fines de navegación.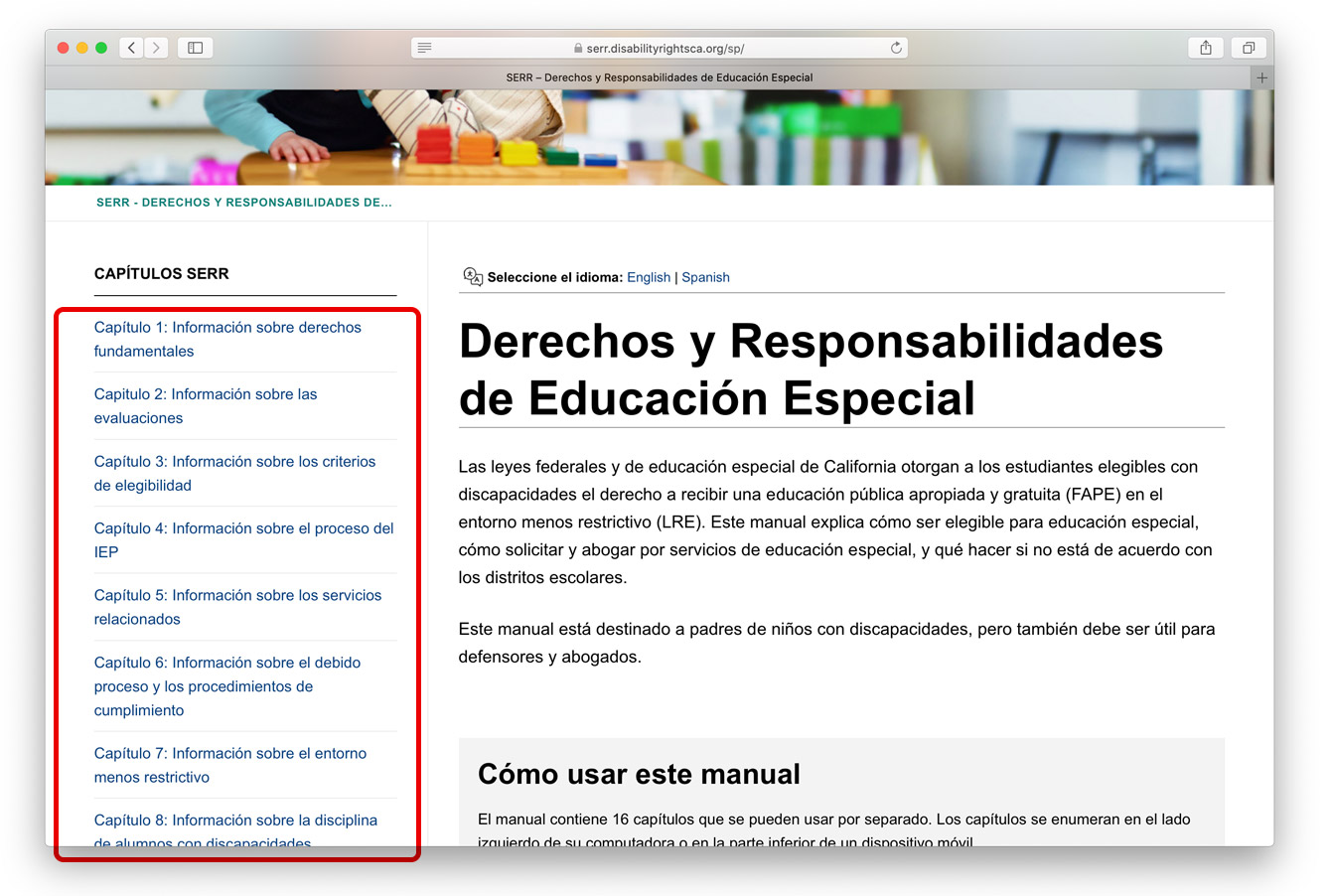 ¿Cómo busco en los capítulos?
El sitio web SERR tiene una función de búsqueda fácil en la parte superior derecha de la página que se puede utilizar para encontrar información específica.
Escriba las palabras clave relacionadas con la búsqueda para reducir los resultados y ser lo más específico posible. Una vez que haga clic en la búsqueda, le llevará directamente a la respuesta de la pregunta.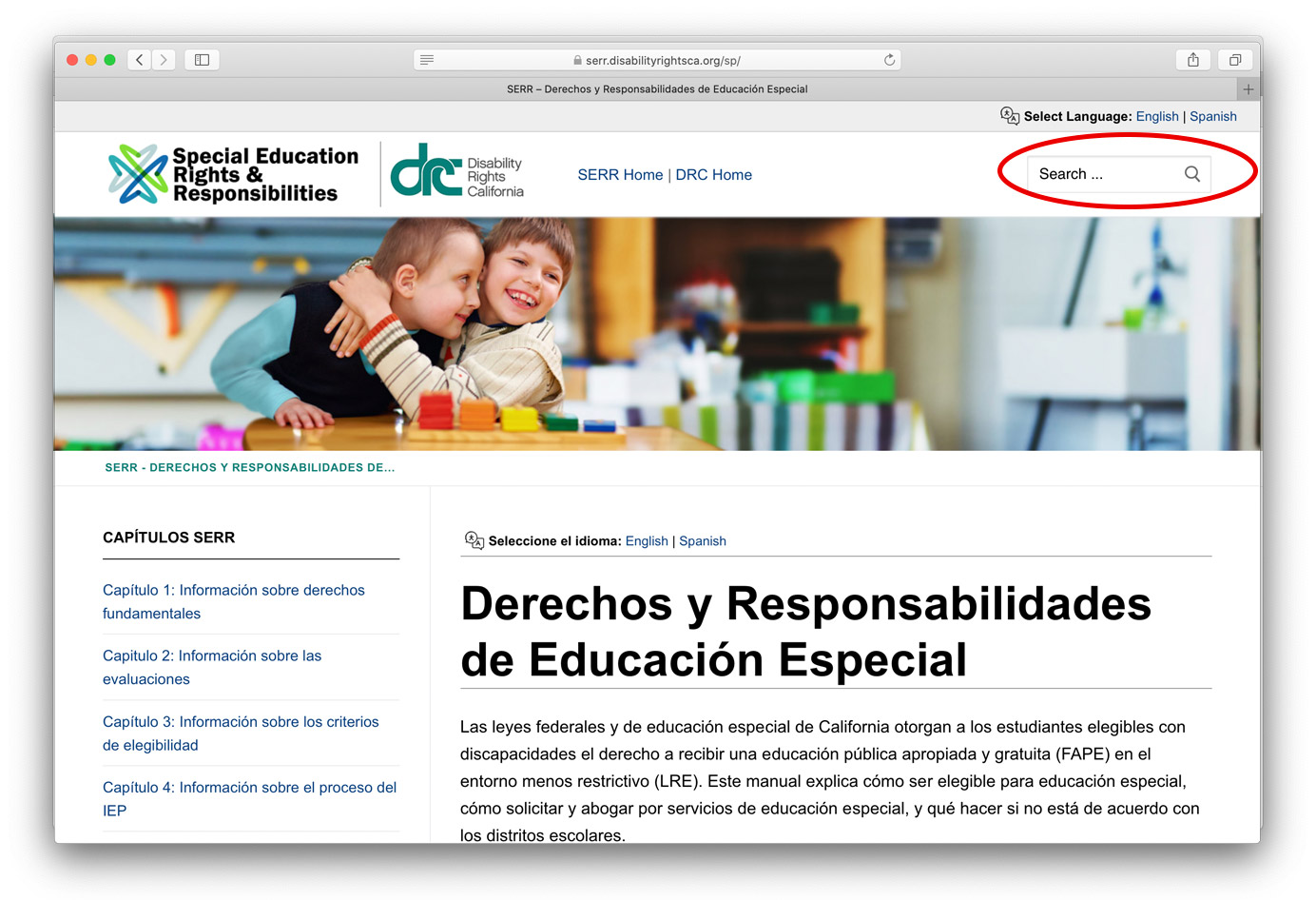 ¿Cómo imprimo la página?
Haga clic en el enlace "Imprimir esta página" que se encuentra directamente debajo de cada encabezado principal del capítulo en la parte superior de la página.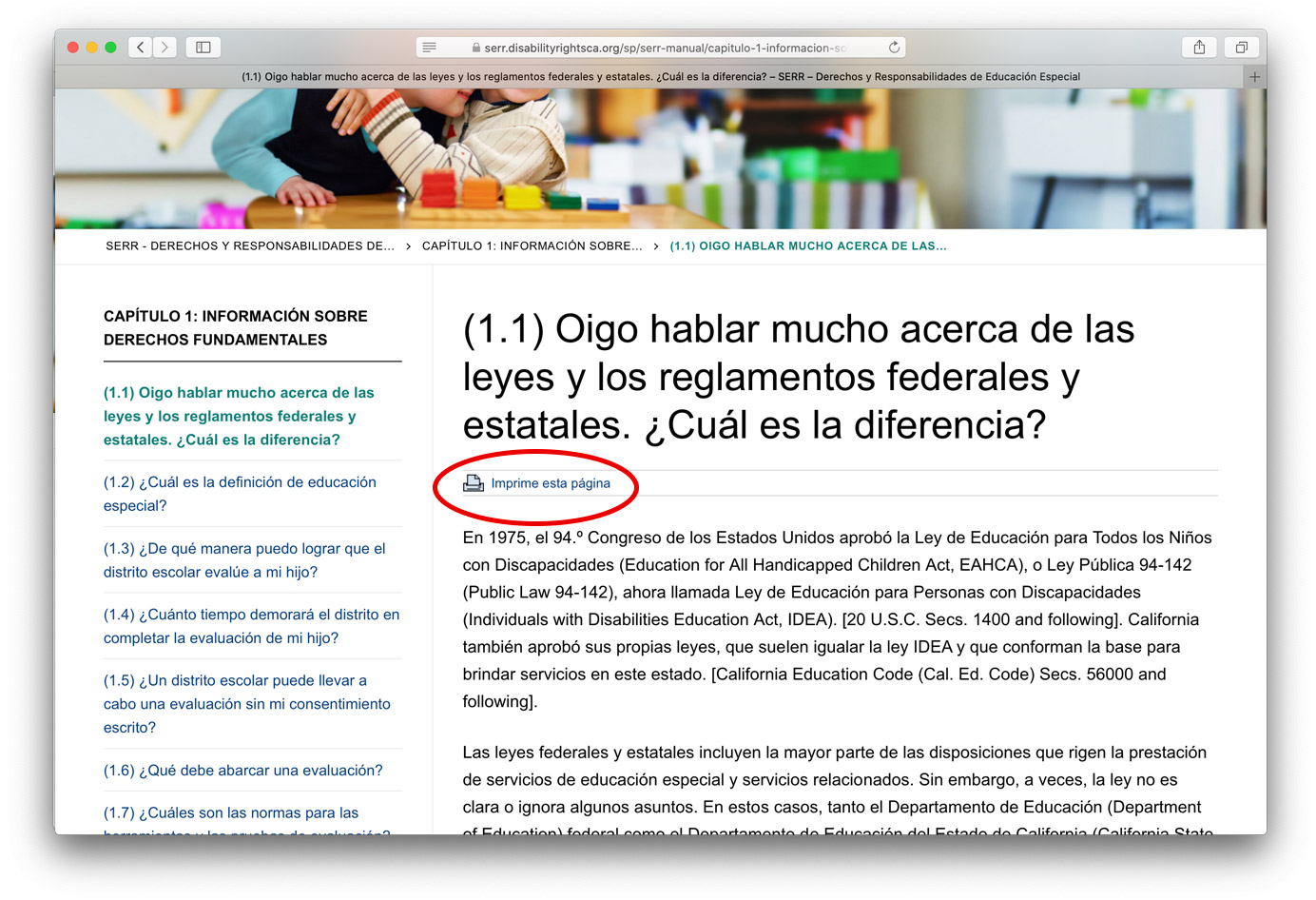 ¿Cómo guardar la página como un pdf?
Haga clic en el enlace "Descargar" que se encuentra al final de cada página.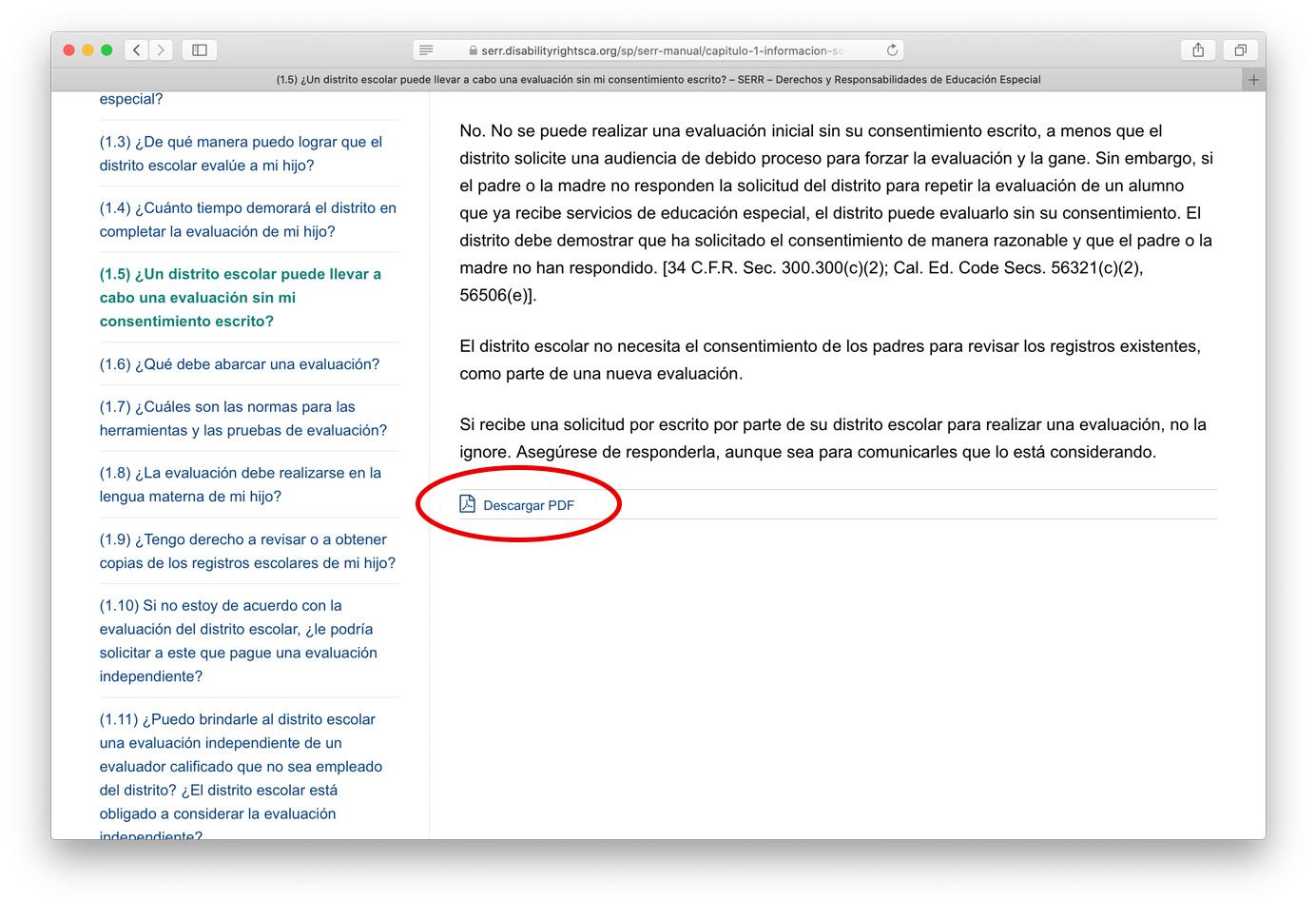 ¿DRC tiene impresiones del manual?
No hay copias impresas del Manual SERR. Utilice el sitio web para encontrar la información más actualizada.