DRC Hits the Airwaves at Sound of Hope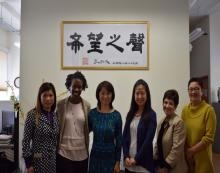 The Outreach Unit and Communication Director worked closely with previous board member Suzette Lin to tape a radio program broadcast.  The Sound of Hope featured an advocacy story about a Chinese woman with a disability who needed services from the regional center. She shared her story and how our Clients' Rights Advocate, Brittnee Gillespie, was instrumental in getting her the services she needed.  
DRC Outreach staff, Raymond Kwong and Tho Vinh Banh, shared information about the services we provide to the growing Asian Pacific Islander (API) community in the Bay Area.
The program reached an estimated 350,000 API, especially the Chinese-speaking immigrant community in the San Francisco, Oakland, Fremont, and San Jose areas. The segment streamed and aired on various stations across the "Sound of Hope" network, including AM 1400 and FM 96.9 (in Cantonese), FM 96.1, and FM 104.7 (in Mandarin).