College students with disabilities have the right to services
Sponsored by California Association for Postsecondary Education and Disability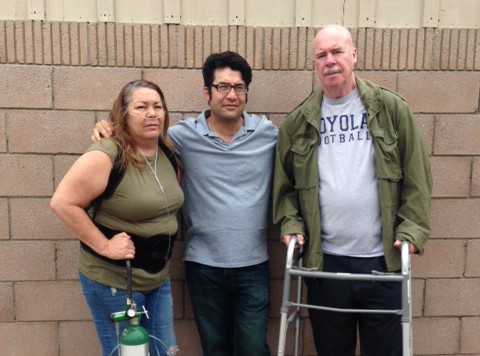 Army veteran Charles Guerra, who has a physical disability, struggles to get to classes and other school activities at West Los Angeles College. In 2016, the Los Angeles Community College District (LACCD), the largest in the country, abruptly stopped providing the shuttle service used by students with disabilities.
Disability Rights California (DRC) and the law firm Skadden, Arps, Slate, Meagher & Flom LLP, filed suit (Guerra v West Los Angeles College) on behalf of Charles and two other students with disabilities. The case went to trial October 2017 in Federal Court in Los Angeles. DRC argued public entities like LACCD are obligated under the Americans with Disabilities Act to provide meaningful access to their programs and services. On-campus transportation is one way of ensuring access.
The court has not ruled on the case. However, in January, DRC helped organize students and other community members to go before the LACCD board of trustees. A slate of speakers shared stories about the hardships created over not having appropriate transportation to navigate the hilly campus. DRC attorney Autumn Elliott describes how difficult it has been for Charles Guerra, who studies psychology.
Charles said, "It seems like people with disabilities don't count. But I'm not giving up."
DRC leads successful fight to restore funding for services that help students with disabilities
Ralph Black has been an activist since college. Blind since childhood, he became interested in disability rights as a student at California State University Long Beach in the early 1970's. He, along with other students, successfully led a campaign to have the legislature provide public funding to support programs for students with disabilities at all public colleges and universities in California.
However, during the state's economic downturn in 2008, the legislature cut community college funding. These cuts fell heavily on student services such as Disabled Student Services Program (DSPS), which was cut by 40 percent. DSPS provides services required under the Americans with Disabilities Act, including access to adaptive equipment, sign language interpreters, and proctoring to allow students more time to take tests.
"It was a devastating time, causing staff layoffs and severe cuts to things like adaptive equipment, sign language interpreters and note takers," Ralph said.
He and other members of the California Association for Postsecondary Education and Disability organized an effort to convince the academic community and the state to restore funding to the DSPS. Ralph coordinated the legislative effort, contacting DRC for help.
Legislative advocates Margaret Johnson and Evelyn Abouhassan wrote letters and testified and Capitol hearings. It took four years. However, the state restored DSPS funding in the 2014-2015 budget.
"It was quite an effort and we couldn't have done it without the help of DRC's legislative staff," Ralph said. Today he sits on the organization's board of directors.