Special Education During COVID-19: Stories From Across California
When schools closed due to the COVID-19 pandemic, the transition to distance learning was difficult for all students, but especially for disabled students who rely on special education supports and services to learn and succeed. "Many students in special education receive occupational, speech or physical therapy — services that are nearly impossible to provide virtually.

Special Education During COVID-19:
Stories From Across California
December 12, 2020
When schools closed due to the COVID-19 pandemic, the transition to distance learning was difficult for all students, but especially for disabled students who rely on special education supports and services to learn and succeed. "Many students in special education receive occupational, speech or physical therapy — services that are nearly impossible to provide virtually. And some students, such as those with developmental disabilities or attention deficit disorder, have difficulty following lessons online. Students may need more 1-on-1 time online than they did in a classroom, because they've fallen behind or can't focus during a Zoom class."1 And for students with autism, "a break in routine or sudden gap in therapy can mean dramatic setbacks."2
Fortunately, disabled students still have a right to the services in their individual education plans, notwithstanding school closures. But some school districts have failed to provide the special education services that students desperately need.3 These districts failed to conduct needed assessments, ignored families' requests for in-home assistance, disciplined students who could not comply with the distance learning rules because of their disabilities, denied needed assistive technology and discriminated against disabled students in their reopening policies.
Disability Rights California (DRC) has provided direct special education advocacy services to hundreds of families of students with disabilities and counseled many hundreds more about their rights. Below are reports DRC collected from across California that illustrate the ways that school districts are still failing to appropriately serve students with disabilities during this period of distance learning.
Child Find and Assessments
Schools are required to conduct prompt initial evaluations of students who may be eligible for special education, a process known as "Child Find." Schools must also reassess special education students every three years and respond to interim requests for assessment when the child's needs change.4 In March 2020, at the start of the pandemic, the state passed a law – Senate Bill 117 - that "paused" the rule that Districts must develop an assessment plan within 15 days. Senate Bill 117 ended effective July 1, 2020, but during the "pause" many students in need of assessments did not receive appropriate services.5 The California Department of Education (CDE) then issued guidance on September 30, 2020, emphasizing that Districts must conduct assessments during distance learning, and can conduct the assessments in person if done in compliance with public health guidance.6
Despite the repeal of Senate Bill 117 and CDE's unequivocal guidance, Districts are still unlawfully refusing to assess. Districts that have told families that they will not conduct in-person and/or virtual assessments include Adobe Union, Fairfield-Suisun, Montebello, Los Angeles, Woodland, Sacramento City, Lake Elsinore, Compton, Calexico, Oakland, and Rowland. Many families had assessment requests pending from before schools shut down, but these have still not been completed. Other school districts such as Antelope Valley and Hesperia delayed assessments, eventually completing them long past the 60-day deadline.
For example, Sacramento City Unified School District (USD) has not been conducting in-person or virtual assessments, even for initial eligibility assessments. As of October 9, 2020, the district superintendent admitted publicly to an initial assessment backlog of over 300 students. The District represents to parents that it "does not have the right" to conduct assessments remotely. It has agreed to assessments by private contractors but only if parents complain or retain counsel. One parent requested an initial assessment in August 2020, but, to date, the District has not started the process. Another family requested an assessment for a specific learning disability in 2019 and throughout 2020; the District has responded that it cannot conduct in-person assessments because of labor negotiation issues.
Other examples include:
Montebello Unified School District has issued prior written notices stating that it will not complete assessments until in-person classes resume. After DRC intervened, the District agreed to retain private contractors to conduct assessments, but this seems to be reserved only for families that complain.
Among the many assessment-related complaints about Los Angeles Unified School District (LAUSD), in August 2020 the District told a Spanish-speaking parent of a 3rd grader with an intellectual disability that it will not conduct evaluations until schools reopen. The parent signed the assessment plan a week before schools closed. LAUSD has also been refusing to allow independent assessors to proceed.
In Woodland Joint USD, a parent requested an initial assessment for her kindergartner in January 2020. As of September 2020, the District had still not started, and staff told the parent that the District is not testing at this time and does not know when testing will resume.
In Hesperia USD, a child's guardian signed an assessment plan in February 2020 for a 1:1 aide. The District delayed the assessment until October 2020, and completed part of the assessment only after DRC submitted a demand letter. The District still refused to complete the remaining portions of the assessment in person, so the guardian has been forced to request an independent assessment.
A parent in a Bay Area district requested an initial assessment for a 5th grader with ADHD, PTSD, and mood disorder. The student struggled to engage with online learning and, without any mental health or behavioral support, was placed on a 5150 hold in October 2020.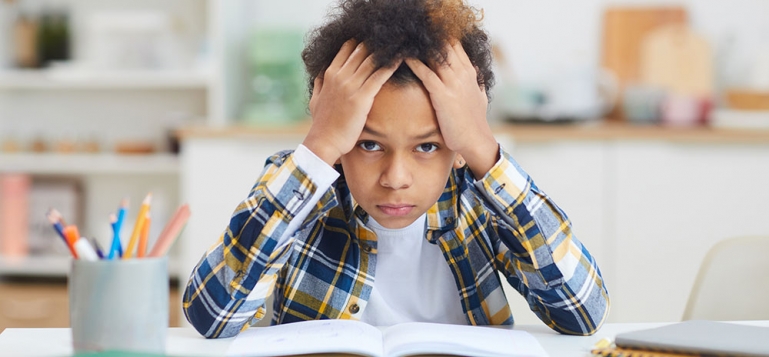 In-Home Supports and Services
On April 9, 2020, the CDE released guidance stating that districts may need to provide in-home supports to "maintain students' mental/physical health and safety" in "exceptional situations."7 Although eight months have passed, many districts still refuse to even consider in-home services and supports for students with disabilities. Students with moderate or severe disabilities, students with significant behaviors, and medically fragile students in particular have struggled to gain any meaningfully benefit from distance learning without in-person help.8
Districts that told parents they will not consider providing in-home aides include Palm Springs, Anaheim, Antioch, Baldwin Park, San Marcos, Sacramento City, Mt. Diablo, Pittsburg, Manhattan Beach, and Kern High School.
Palm Springs Unified School District will not provide a 1:1 aide in the home or contract with non-public agencies (NPAs) that will. District staff told one parent that all families are having a hard time and that they need to do their best without in-home support.
Another district refused to provide an in-home aide for an 11-year-old with cerebral palsy, visual impairments, and a seizure disorder, telling his parent that it did not allow staff in the home. It only relented when DRC intervened in late November 2020.
Sacramento City Unified School District is not providing 1:1 aides in the home during school closures due to labor disagreements. Nor will the District authorize its contractors to provide in-home services.
A. is a student with Down syndrome and requires hand-over-hand support. Without an aide by his side, he cannot attend to or participate in class. His aide cannot meaningfully support him virtually, but the District has refused to consider an in-home aide or contract with a non-public agency for this service. His parents have decided to use their own funds to hire a private aide so that A. can receive the support he needs and access his education.
Another district refuses to provide an in-home aide to a 19-year-old student in its transition program. His IEP provides a 1:1 aide, but the aide cannot redirect him via Zoom. This student cannot meaningfully access remote learning without in-home support.
Several districts that refuse to provide in-home related services require a tele-therapy consent form for virtual services, which IEP teams tell families they must sign to receive services. When a DRC client did not feel comfortable signing the form, her daughter did not receive small group, virtual related services.
An eighth grader with autism and an Intellectual Disability attends a non-public school through their district. The student has behavioral needs, including self-injurious behaviors, but the District only agreed to provide virtual behavioral intervention, which did not help the student. The District refused to provide any in-person services because of COVID-19.
An 8th grade student with autism and ADHD has hardly logged onto classes for distance learning since the pandemic started, due to his anxiety. The District's only offer of support has been to bring him onto campus and have him log onto distance learning there, while supervised by an adult who is not trained to work with students. Parent has requested in-person services, but the District has not responded.
Disciplinary Removals from Distance Learning
Schools must provide procedural protections when disciplining students, including making reasonable efforts to contact parents and mailing a notice of discipline.9 Federal and state special education laws provide additional procedural safeguards specific to students with disabilities.10
But during distance learning, some districts remove students from distance learning without giving procedural safeguards.11 DRC represents T., a 4th grader with autism. His district locked T. out his device for nearly ten days as a punishment for his behavior. Similarly, K. is a 10th grader with an IEP from another district. Whenever he has logged into a Zoom class a few minutes late, his teacher has left him in the waiting room and excluded him for the remainder of the period. Neither parent received notice or other procedural safeguards.
Access to Technology
Like other California students, students with disabilities have struggled to secure the assistive technology and adaptive equipment they need to access distance learning. Families have complained that Mt. Diablo, Kerman, Morgan Hill, and Sacramento City Unified School Districts have failed to provide needed laptops, Chromebooks, Wi-Fi hot spots, and adaptive equipment. Districts also are not providing students and families with technical assistance in logging on to classes, accessing websites, etc.
K. is a 2nd grader with orthopedic impairments and cognitive delay. She uses a wheelchair and a communication device. As of December 1, 2020, K. has received no technology from her school district to address her distance learning needs. K has been using the family laptop and on occasion cannot attend lessons because her dad needs the family computer. She also needs an in-person 1:1 aide to access her classes, which the District has also not provided. During this time, her behaviors have escalated, with increasing aggression and self-harm.
A district provided a 1st-grade student with a visual impairment with a small Chromebook but he could not see the screen because of his disability. When the District failed to provide adaptive equipment, the family had to pay out of pocket for a larger monitor so the student could participate.
T. is an 11th grader who was unable to attend Zoom classes for weeks because of Wi-Fi issues. His teachers marked him absent. The District provided a hot spot device after DRC intervened, but T. is now failing most of his classes.
An 18-year-old student with autism and an intellectual disability received a laptop in May 2020 but he and his family needed help to figure out how to use it, so he could not participate in distance learning when school resumed in the fall. The District did not give support or instruction on how to use the laptop until the family requested an IEP meeting in October.
Two sisters in third and fifth grade attending a charter school both have IEPs. Their school provided them with laptops, but the cameras on the laptops do not function and have not functioned since the beginning of the school year. The students cannot fully participate in instruction because they cannot turn on their cameras. Their parent complained to the District but the school has not issued new laptops with functioning cameras.
A particular problem is that many students have disabilities that manifest as difficulties in attending to non-preferred activities, and instead seeking out preferred activities. Once online for distance learning, they visit preferred websites, such as YouTube, instead of attending virtual instruction.12 As an accommodation, families have asked districts to install parental controls on district–issued laptops. These controls are easy to implement, yet several districts have refused to implement this reasonable accommodation.
For three months, the Sacramento City Unified School District failed to address a family's request to install laptop controls for a student with ADHD and autism. Ultimately, the family was forced to purchase its own laptop with necessary controls.
G. is a student in Bellflower Unified School District. He logs into class but does not participate or complete work. The District has refused Parent's request to implement controls to restrict his web surfing.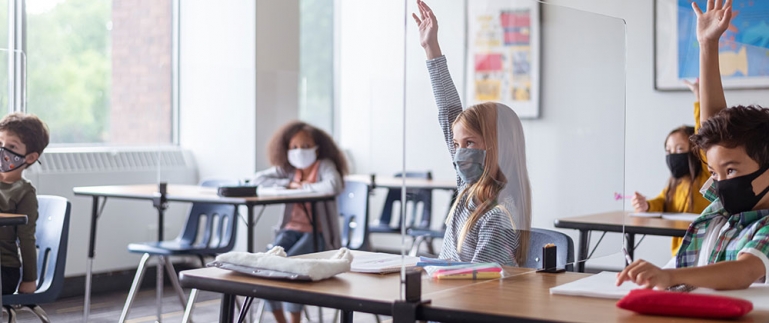 Face Masks, Other Discriminatory School-Reopening Policies and Denial of FAPE
Some districts have begun limited in-person classes for special education students, while others have not. The result is an uneven patchwork even within counties and regions with the same COVID-19 rating.13 In Los Angeles County, for example, Downey Unified requested waivers to permit in-person special education classes for all of its schools, while other districts made no waiver requests. Families perceive this as inequitable and unfair to disabled students who cannot manage distance learning.14
Districts that have reopened have not done so equitably. Antelope Valley reopened in-person classes for certain special education students with higher needs, but did not provide parents with any information with how the District was determining who these students are. One student with autism has increased behavioral outbursts and requires greater mental health supports, but was not included in the in-person program. Chino Valley Unified School District reopened a student's program to in-person learning but Student's aide refuses to follow, touch, or assist Student with self-care needs due to COVID-19 concerns.
Additionally, Long Beach Unified School District reopened its Head Start program, but only for nondisabled students; students with an IEP cannot attend. Citing city health guidelines, the District refused to allow a preschool student with an IEP to attend in-person. The student has experienced significant regression during distance learning, particularly with her speech and social skills.
As some schools reopen, DRC has learned of districts that refuse to consider reasonable accommodations to face masks and other policies. These include San Diego, Capistrano, Rocklin, and Long Beach Unified School Districts. In particular, San Diego Unified School District adopted a blanket policy15 that requires all students to wear masks to receive in-person services. The policy does not allow for reasonable accommodations for students who cannot tolerate a mask due to medical necessity or disability. This approach is more restrictive than federal, state, and even San Diego County Office of Education guidance.
The students who contacted DRC all have compelling reasons why they cannot wear a mask. For example, one student has hypotonia, or poor muscle tone, which causes them to drool. If he wears a mask, the fluids accumulate in his mouth and mask, leading to other health and impairing skin integrity. Other students are deaf or hard of hearing and rely on lip reading for communication. Districts have refused to permit exceptions to the mask policy even with a doctor's justification, or to require teachers to wear a clear mask and shield for students who read lips.
Some districts are simply not providing FAPE. A 4th grader with an Intellectual Disability and Specific Learning Disability in a district in the Inland Empire has not participated in any mainstream classes, although these are part of her IEP. Speech services have also been reduced too. During distance learning, Student receives packets of work to color and watches YouTube, while she falls behind in reading and other subjects.
1 Carolyn Jones, "As school starts, California districts try to improve virtual special education; Parents, however, are skeptical that distance learning will ever work for children with disabilities," EdSource, August 17, 2020, available at https://edsource.org/2020/as-school-starts-california-districts-try-to-improve-virtual-special-education/638325; Madeleine Chinery, "Sacramento parents wonder: Is distance learning leaving special needs students behind?" Sacramento Bee, August 25, 2020, available at https://www.sacbee.com/news/local/education/article245149465.html. - (Return to main document)
2 See Jeremiah Dobruck, "As schools close, disabled students lose critical care," Long Beach Press telegram, March 19, 2020, available at https://lbpost.com/news/schools-closed-disabled-special-ed-autism. - (Return to main document)
3 See Carolyn Jones, Special education inconsistent in California school districts during closures; Some have already launched online learning, others still in the planning phase, EdSource, April 1, 2020, available at https://edsource.org/2020/special-education-inconsistent-in-california-school-districts-during-closures/627830. - (Return to main document)
4 34 Code of Fed. Reg. §§ 300.301, 300.303. - (Return to main document)
5 See Sonali Kohli, Children with disabilities are regressing. How much is distance learning to blame?, Los Angeles Times, Aug. 7, 2020, available at: https://www.latimes.com/california/story/2020-08-07/covid-19-distance-learning-weakens-special-education. - (Return to main document)
6 CDE, Special Education Guidance for COVID-19 (Sept. 30, 2020), available at: https://www.cde.ca.gov/ls/he/hn/specialedcovid19guidance.asp (emphasis added). - (Return to main document)
7 CDE, Special Education Guidance for COVID-19 (Apr. 9, 2020), available at: https://www.cde.ca.gov/ls/he/hn/specialedcovid19guidance.asp. - (Return to main document)
8 See Shayna Rubin, Special education in the age of coronavirus: How Bay Area parents and teachers are coping, The Mercury News, May 29, 2020, available at: https://www.mercurynews.com/2020/05/21/special-education-in-the-age-of-coronavirus-how-bay-area-parents-and-teachers-are-coping/ (last accessed Dec. 11, 2020); Kristen Taketa, Closed schools have to serve some special education students in person, experts say, San Diego Union-Tribune, Sept 19, 2020, available at: https://www.sandiegouniontribune.com/news/education/story/2020-09-19/closed-schools-have-to-serve-some-special-education-students-in-person-experts-say; https://edsource.org/2020/as-school-starts-california-districts-try-to-improve-virtual-special-education/638325. - (Return to main document)
9 Cal. Educ. Code § 48911. - (Return to main document)
10 See Disability Rights California, Special Education Rights and Responsibilities (SERR) Manual, Chapter 8: Information on Discipline of Students with Disabilities, available at https://serr.disabilityrightsca.org/serr-manual/chapter-8-information-on-discipline-of-students-with-disabilities/ (last accessed Dec. 11, 2020). - (Return to main document)
11 Carolyn Jones, How school discipline — and student misbehavior — has changed during the pandemic, EdSource, Nov. 17, 2020, available at https://edsource.org/2020/how-school-discipline-and-student-misbehavior-has-changed-during-the-pandemic/643758. - (Return to main document)
12 See, e.g., Heather Knight, San Francisco schools can reopen safely; But it will take all of the city to make it happen, San Francisco Chronicle, Oct. 23, 2020, available at https://www.sfchronicle.com/bayarea/heatherknight/article/This-system-is-failing-all-these-children-15669047.php ("Royal, a fourth-grader at Tenderloin Community School, sits almost all day alone in his bedroom staring at a screen — bouncing between distance learning, YouTube and his beloved 'Fortnite' video game….[H]e's addicted to screens now and has gained more than 20 pounds. His behavioral problems have grown worse but the therapy sessions he's owed by the school district don't work well on Zoom."). - (Return to main document)
13 Carolyn Jones, "Some schools now open for small special education classes; Debate swirls over safety and liability as some high-needs students head back to the classroom," EdSource, Sept. 28, 2020, available at https://edsource.org/2020/some-schools-now-open-for-small-special-education-classes/6405. - (Return to main document)
14 See articles about lawsuits against Los Angeles Unified School District regarding its reopening policies: Melissa Gomez, My son 'needs more than a screen' mom says as LAUSD taken to court to partially reopen schools, Los Angeles Times, Dec. 11, 2020, available at https://www.latimes.com/california/story/2020-12-11/lausd-campus-shutdown-lawsuit-child-advocacy-groups-file-suit-against-lausd-to-partially-reopen-schools; Paloma Esquivel, Parents sue LAUSD, blasting its online learning as an 'educational crisis', Los Angeles Times, Sept. 24, 2020, available at https://www.latimes.com/california/story/2020-09-24/parents-sue-lausd-blasting-its-online-learning-for-creating-an-educational-crisis. - (Return to main document)
15 See Kristen Taketa, Parents say San Diego Unified mask policy discriminates against students with disabilities, San Diego Union-Tribune, Nov. 12, 2020, available at https://www.sandiegouniontribune.com/news/education/story/2020-11-12/parents-say-san-diego-unified-mask-policy-discriminates-against-students-with-disabilities. - (Return to main document)