April is World Autism Month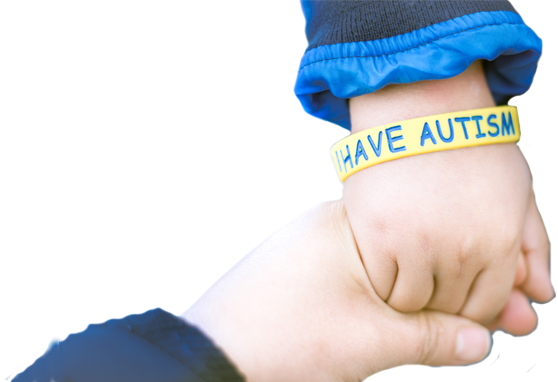 Autism is the fastest growing developmental disability in the United States. Disability Rights CA and The Office of Clients' Rights Advocacy (OCRA) are pledging to go blue by helping increase the acceptance and awareness of people with autism.
April is

World Autism Month
Autism is the fastest growing developmental disability in the United States. Disability Rights CA and The Office of Clients' Rights Advocacy (OCRA) are pledging to go blue by helping increase the acceptance and awareness of people with autism.

There are more than 3.5 million people in the United States with an autism spectrum disorder.
All names have been changed to preserve confidentiality.
Autism Success Story
OCRA Helps Brothers File Housing Complaint Against Landlord
Aaron and Alex are two brothers with autism who ran into a problem with their landlord. When the brothers tried to use their stove for the first time, it caught fire with flames shooting out of the stove burners. The brothers put out the fire, but were without a stove for several months. The brothers also discovered several flash burns inside the fuse box connected to the stove. The circuit breaker had blown. Although the brothers complained to their landlord in writing, they never received a response. OCRA coordinated with a regional center service provider to have an electrician look at the fuse box and the stove. The electrician determined the wiring for the stove is underrated for the wiring in the apartment and probably the rest of the building. The electrician offered to fix the issue, but the landlord refused. The landlord argued that only the blown fuse needed to be replaced. OCRA helped the brothers write a complaint to the housing department. A housing inspector came out to review the wiring and the stove. The inspector agreed with the electrician's findings and required the landlord to fix the wiring or replace the brothers' stove with one rated to the wiring already in their apartment.
Autism Success Story
Oscar Moves into the Community
Oscar had been placed in a crisis home because his behaviors escalated. After a year, the regional center determined it could not provide services to stabilize Oscar at the crisis home, so he was admitted into an IMD far from his home. This was difficult for Oscar and his family because they could not visit him as much as they wanted. When Oscar did not show signs of improvement during his stay at the IMD, the regional center decided he could receive the services he needed in the acute crisis unit at a developmental center. OCRA attended regular meetings to advocate for supports and services to help Arthur get better and to move back into his home community. Oscar showed significant signs of improvement, which transformed his demeanor.
Oscar attended his regular meetings and participated with the team to provide regular updates on his progress. Oscar used his words to explain to his staff when he was feeling anxious or uncomfortable instead of becoming physically aggressive. Oscar stayed busy as he worked doing janitorial work and delivering mail, which earned him his own money. Oscar also went on outings with this staff to places like Taco Bell and Target. The regional center and a vendor began to develop an Enhanced Behavioral Support Home for Oscar, but the home was not ready before Oscar's discharge date from the acute crisis unit. The regional center agreed to rent a home for Oscar to transition into until the behavioral home can be completed.  During the months leading to his discharge, staff members engaged in cross-training with Oscar to help make him feel comfortable before moving back into the community. Oscar liked working with them. Oscar is now doing well at his rental home.  He enjoys spending time with his family members who visit him regularly.
Autism Success Story
OCRA Helps Young Man Find a Home and Receive Benefits
Adrian is a 22-year-old young man with autism. Adrian was born in Russia. A family adopted him and brought him to California to live with them. Unfortunately, Adrian's family told him he could no longer live with them. Adrian turned to a neighbor for help. Believing that Adrian might be a regional center client, the neighbor called the clients' rights advocate (CRA). 
The CRA found out Adrian was a regional center client until age 10 when his mother took him out of school and refused more regional center services. The CRA had the regional center reopen Adrian's file and held an IPP meeting in their office. Adrian's parents refused to give him important papers like his birth certificate and adoption records. The CRA went with Adrian to the County Office of Vital Records to get certified copies of the records. The records were necessary so Adrian could apply for and receive Social Security Supplemental Security Income and other benefits. 
Adrian is now living in a group home with four other young men he calls "brothers." Adrian will soon take college classes to have a career in computer graphic design. Meanwhile, Adrian mended fences with his parents.
Autism Success Story
OCRA Helps Client Enter Customized Employment Pilot Program
A self-determination program recently agreed to take Christopher into its program. Christopher needs 24 hour, seven day a week nursing care for his disabilities, which include cerebral palsy and autism. Christopher communicates with American Sign Language and assistive technology. He graduated from a College-2-Carreer program. It is a community college program to help students with intellectual disabilities attend college and prepare to work. Christopher wants to work. However, Christopher's regional center would not give him the services he needs to work.
Christopher's family called the local clients' rights advocate (CRA). The CRA quickly set up an Individual Program Plan or IPP meeting to discuss Christopher's wish to work. At an IPP meeting, the regional center client and the regional center identify goals and services needed to reach the goals. When asked by the CRA, the employment program coordinator for the local regional center went to the meeting. 
Christopher's IPP team agreed to give services: supported employment, supported living, transportation, and rental help. More important, a pilot program for customized employment agreed to take him. It took him because of the program coordinator recommendation and the CRA's advocacy.
MAKE A DONATION
Please give. To the best of your ability.