Disability Access Myths & Facts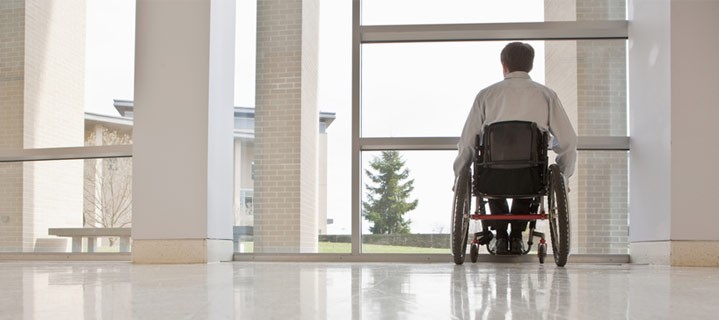 Myth: People with disabilities file too many access lawsuits.
Fact: People with disabilities trying to enforce their right to equal access under the ADA have few options other than filing a lawsuit.  The ADA does not require states to have inspectors to enforce the law. Without an enforcement mechanism, people with disabilities must enforce their own rights and file a lawsuit as a last resort.
In fact, few Californians bring access lawsuits. According to the 2012 American Community Survey, there are approximately 3,766,370 Californians with disabilities.  According to the most recent data available from the California Commission on Disability Access (CCDA), only 391 people with disabilities, or 0.01%, filed access claims in a one-year period. 
Myth: Too many lawyers file frivolous lawsuits that raise minor issues, like a mirror being an inch too high or a sign being the wrong shade of blue.
Fact: Most complaints include multiple access issues, not single, minor violations. Of the 201 cases filed in July 2014, only two raised a single-issue violation and most complaints identified multiple violations or significant single violations, such as missing grab bars. Furthermore, the State Bar of California has procedures to discipline attorneys who file frivolous lawsuits.
Myth:  Demand letters for money hurt small businesses.
Fact: California law prohibits individuals from filing demand letters for money in these circumstances. This law requires the State Bar of California and the CCDA to provide oversight of demand letters and the State Bar of California reviews all demand letters to make certain attorneys are not using them to request monetary damages. The State Bar of California can discipline any attorney violating this prohibition.
Myth: Fixing access violations are costly to small businesses.
Fact: The most common problems are inexpensive to fix and many can be corrected at minimal expense to the business owner, like restriping or painting parking lots. Some can be fixed with no cost, just moving a plant that blocks the path for a wheelchair user or stop using an accessible restroom stall for storage.
Myth: It isn't fair that small businesses have to fix access problems in old buildings. 
Fact: Retrofitting an older building to new standards can be costly but current access standards take into account such things as whether removing a barrier is doable, whether the business has the resources to do so, and whether a building was built before the adoption of the law. The requirement to make the changes is made on a case-by-case basis and considers these factors.
Federal and state law also provide tax credits and tax deductions for businesses that make access improvements. Tax credits can offset the costs of correcting accessibility violations and protect business profits.
Myth: Individuals claim access violations but do not even visit the business they are suing.
Fact: To bring a California lawsuit against a business, the plaintiff must show the violation personally affected them. This is required by a state law, passed in 2008, which tightened the requirements for someone to bring an access lawsuit against a business. 
Myth: It is unfair small businesses have to pay a person with a disability damages for each violation and each visit.
Fact: The law generally protects small businesses from having to pay a single person damages for multiple violations. Statutory damages are not allowed to be accumulated based on multiple access problems at a single location. To receive damages for repeated violations at one location, people with disabilities must explain why they needed to make multiple visits to a site.
Myth: The statutory damages are fixed and a business can do nothing to get them reduced.
Fact: By taking early proactive corrective action, businesses can seek a reduction in the penalties they have to pay.
In 2012, changes to the law also reduced the amount of disability civil rights damages that a business has to pay. For example, if a business is proactive and hires a Certified Access Specialist (CASp) and fixes a violation within 60 days, the civil rights damages are reduced from a minimum $4000 to $1000 per offense. Damages are reduced from $4000 to $2000 per offense if a small business of 25 or fewer employees fixes the violation within 30 days.
Myth: Small businesses do not get an opportunity to fix minor "technical" violations before someone seeks damages.
Fact: State law gives small businesses of 25 or fewer employees 15 days to fix certain technical violations before having to pay a plaintiff who has not been hurt by the violation. Examples of technical violations include the order and placement of disabled parking signs, the wording on parking signs, and the color and condition of parking lot striping. 
Myth: Businesses need more time to fix access violations.
Fact: California law gives 96% of California businesses time to fix the violations before having to pay damages if they get a CASp inspection. A business with up to 50 employees does not have to pay damages for up to 120 days for access violations they are correcting. If a building permit is required for repairs and the repairs cannot be completed within 120 days, the business gets up to 180 days to make repairs. To qualify for these damage protections, businesses must get a CASp inspection.
Myth: If a business was just told how to make their businesses accessible to people with disabilities – they would do it.
Fact: There are terrific resources available to help businesses make sure they are following the law. The CASp program, available to all businesses, is one such program. The CASp program provides experienced, trained, and certified individuals who can inspect buildings for compliance with applicable state and federal construction-related accessibility standards. A list of CASp's can be found here.  In addition, there are a number of other resources for businesses online, including the CCDA, the Pacific ADA Center, California Department of General Services Division of the State Architect, and United States Department of Justice.        
Common Sense Approaches to Improving Access and Minimizing Litigation
Californians with disabilities and business want access issues fixed. Some ways to ensure that happens are:
Through lease terms for access fixes, shift responsibility to make properties accessible from tenants with fewer resources to landlords who have more resources; prohibit landlords from shifting access fixes to tenants.
When business licenses are obtained or renewed, include a nominal fee to help pay for CASp inspections and access improvements.
Develop an access inspection program similar to health and safety inspection programs.
Encourage early review of actions filed by plaintiffs or lawyers in construction related lawsuits to facilitate early settlement of these cases.
Ensure businesses correct the access problems by requiring court oversight of settlements and court orders.