Schwarzenegger appoints paralyzed lawyer Sara Granda to legal post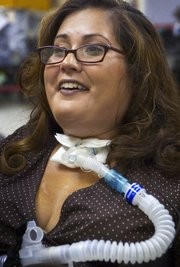 By Kevin Yamamura
Sara Granda, the UC Davis law school graduate who is paralyzed and drew national attention last year when State Bar officials nearly prevented her from taking the exam, has been named by Gov. Arnold Schwarzenegger to a legal position in the state Department of Health Care Services.
Granda, 30, passed the July exam after the state Supreme Court ordered the State Bar to allow her to take the test.
State Bar officials initially said Granda had missed their June 15 registration deadline since she did not submit credit card information online. Granda did not have a credit card, however. Because she was a low-income disabled resident, the state Department of Rehabilitation covered her $600 registration fee and had submitted payment by check.
Civil rights lawyers took up her cause, and she sued the state. Schwarzenegger wrote to the California Supreme Court, urging it to intervene.
Granda, a Democrat and Davis resident, will serve as a special assistant to the chief counsel for the Department of Health Care Services. She interned at the department in 2007 and 2008. She will earn $56,134.
"Sara will be a great addition to my administration and I am excited to have her on board," Schwarzenegger said in a statement. "Her background in law and previous experience working at the department make her the perfect choice for this position."
Granda was paralyzed in a July 1997 car accident just before she was to begin studying at Cal Poly San Luis Obispo.
She received undergraduate and master's degrees in social work before graduating last year from the UC Davis School of Law.