Boy's special medical care imperiled by state budget crunch

By Judy Lin
Derek Longwell, 13, waits for his wheelchair to be brought to him after a CT scan Tuesday. The teen is unable to walk due to an incomplete spinal column. A proposed 10 percent cut in California Children's Services, a medical program for the state's sickest children, could threaten services to young patients such as Derek. Autumn Cruz / acruz@sacbee.com Derek Longwell's wheelchair bears all the scars of rough handling by a fully charged 13-year-old boy: scratched metal frame, chipped paint, worn treads and a perpetual coat of dust on the footrest.
The teen with dark chocolate hair and olive-tinted eyes suffers from spina bifida, a birth defect that has left him with an incomplete spinal cord and an inability to walk. But a committed team of doctors and his devoted parents, backed by a specialized state health care program, have enabled Derek to enjoy an active life outdoors.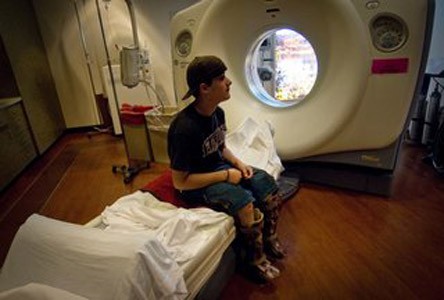 Now the state's ominous fiscal forecast is threatening to disrupt Derek's ability to see his doctors in a timely manner or get leg braces to fit his growing body.
Gov. Arnold Schwarzenegger has proposed cutting 10 percent from the California Children's Services program, which funds part of Derek's care. It's a move that parents and advocates say would mean the state's sickest children will have to wait longer for care.
"That's a life-and-death issue," said Erin Aaberg Givans, executive director of the Children's Specialty Care Coalition, which represents pediatric specialists caring for the program's children, who suffer serious and chronic diseases such as cancer, diabetes, heart problems, birth defects, and HIV. About 165,000 children are enrolled.
While 75 percent of CCS beneficiaries also are enrolled in government-sponsored insurance programs such as Medi-Cal and Healthy Families, CCS steps in to help some privately insured middle-class families such as Derek's when their expenses exceed 20 percent of their annual income.
Schwarzenegger has proposed cutting $118 million from the $1.8 billion state-funded program in the fiscal year starting July 1. Lawmakers already have approved a large chunk of those cuts, namely a 10 percent reimbursement cut for CCS providers for a savings of $97 million a year.
"It's a tough budget, and the governor wanted to look for a way that spreads cuts as evenly as possible," said Toby Douglas, deputy director of health care policy at the state Department of Health Care Services, which oversees the program.
Also under the proposed cuts, counties would get $12 million less for administering the program. Twenty-three state positions would lose funding.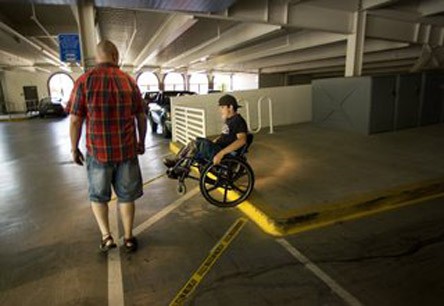 Givans said many doctors already are accepting lower reimbursement rates from CCS than private insurance and Medi-Cal. She said a 10 percent cut could drive physicians out of the state.
Dr. Gregory Janos, a pediatric cardiologist at the Children's Center at Sutter Medical Center, said he's heard of specialists leaving California.
"There's an increasing demand on their time and patients in these government-sponsored programs. There's a disincentive … for them to come here," Janos said. "With a 10 percent cut it may help now, but in the long run, it may come back to haunt us."
The Longwells are a testament to the fight for health care. They live in Anderson, near Redding, and drive 150 miles to Sacramento, where many of Derek's doctors are located.
During one of Derek's frequent trips to Sacramento, he received a CT scan and a checkup. Dr. Samuel Ciricillo, a pediatric neurosurgeon at Sutter Neuroscience Medical Group, urged him through: "Show me your teeth. Stick out your tongue. … Close your eyes tight. Open your eyes big."
Ciricillo looked at Derek's CT scan over a light board. The images, black and white oval slices of his brain, appear healthy – except for a white line where a shunt acts like a straw, draining fluid out of his head.
"Everything looks good and appears working well," Ciricillo said, monitoring Derek's case of hydrocephalus, a condition that causes brain fluid to build up and gives the wheelchair-bound teen migraines.
"His ventricles are nice and small in size. I see a small inflammation here, but it appears stable. Everything else looks good."
For Derek's checkup, Ciricillo said he will collect about $25 from CCS – a fraction of his $250 typical exam charge. He said the reimbursement rates don't even cover the cost of office supplies or utilities.
Derek's mother, Wendy Longwell, considers her family lucky. Even though the Longwells have private insurance, she said, "CCS has saved us so many times."
The program was there when their insurance declared diapers medically unnecessary for Derek, whose underdeveloped body suffers from gastrointestinal and renal problems.
It covers his $120 monthly supply of catheters. It provides him a $15,000 wheelchair so he can get around on his own.
"To know that insurance might be stopping your child from getting fixed, it's scary," said the mother of four, who advocates for children with special needs.
After 26 surgeries, the Longwells still choose humor to cope with the incessant needs of their child's disability.
"So, he's alive? Oh, good," said Derek's father, Jeff Longwell, as Derek pulled his left index finger out of an oxygen saturation meter at his checkup.
Caught off guard by the teasing remark, Derek reached his arms from his wheelchair to shove his father in the stomach. For a moment, the father grasped his son's hand. They laughed.