Preparing for a Natural Disaster
Learn about where to start, items to prepare, and view a video with tips for the disability community
Natural disasters can impact California at all times of year. For residents with disabilities, events like wildfires, earthquakes, and floods pose additional risks.
When a natural disaster happens, it's important that people with disabilities and their support systems be prepared with the necessary supplies, tools, and information to make the best choices for themselves. 
DRC staff attorney Jordan Davis, is an Equal Justice Works Fellow in the Disaster Resilience Program. Through their fellowship, Davis works to assist survivors of wildfires and works on disaster preparedness initiatives.
Davis said that an important first step to preparing for a disaster is to start having conversations with the people around you. 
"Preparation is really great, even if it's just talking with the people that you live with — that can go a long way," Davis said. "Being in the disaster you're stressed out you're scared, just knowing you have a meeting point can make it less stressful."
Wildfire preparedness
In California, the number of wildfires continues to increase and intensify annually. Despite the state's record levels of rain and snow this past winter season, the risk of wildfires remains.
Davis, who specializes in studying the impacts of wildfires on the disability community, said it's important that folks with disabilities are signed up for their utility company's baseline medical program. 
Signing up for the program means folks will be the first to be notified about public safety power shutoffs (PSPS), which happen when utility companies turn off electricity to powerlines in areas where there is an urgent threat of wildfires. Davis said it's especially important for people with disabilities who rely on power for assistance to be notified ahead of a PSPS event.
"If you're signed up in the baseline program and you tell them [utility company] the best ways to notify you, they're supposed to exhaust all of those options, and if they don't contact you, actually do a door knock and at least leave something at your door," Davis said.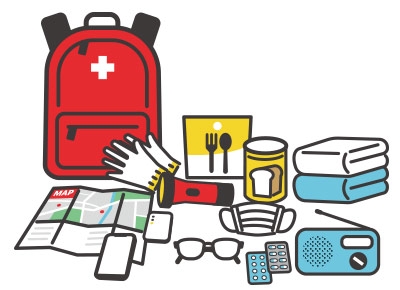 Items to Prepare
Below is a list of questions designed to kick-start planning before an emergency takes place. 
Are you signed up for emergency alerts? If you are not, you can call your local office of Emergency Management Services and subscribe to alerts.
Do you have emergency contacts? Have a list of emergency contacts for friends, families and neighbors and the contacts of the people who you will stay with in a disaster.
Are you packed? You should have a bag ready if you have to leave fast. The bag should include everything you need, including medicine and copies of important documents like your social security card and ID.
If you are going to evacuate, do you need a ride? Know who you are going to call ahead of time and make sure you have a backup.
Do you know where you are going to go? Make sure you know where you want to evacuate to. 
When you get to the evacuation site, what do you need? You may want to have a list of things that you will need for it to be accessible written down so that you don't forget anything when you get there.
Emergency Supply Kit: Be prepared to use what you have on hand to make it on your own for at least three days, maybe longer. Emergency supply kits should have a 3-day supply of water and food per person.
For more information about preparing for a disaster, watch the video below.
Video is also available in the following languages
More Emergency Resources
How Disability Rights California Can Help You:
If you have an emergency or are in trouble, call 911. Disability Rights California cannot help you evacuate or stay safe.
We can help you if you need help with your legal rights including:
The alerts not being accessible.
If you go to a shelter or evacuation site and it is not accessible.
If your service or emotional support animal is not allowed in a shelter with you.
If you need access to medicine or equipment that you did not bring with you and have questions about how to get it.
We can talk to you about your questions, determine how we can help, and get you the information that you need.
For assistance, please contact
the Disability Rights California confidential intake line at
1-800-776-5746 or TTY call: 1-800-719-5798
available 9:00 am - 4:00 pm, Monday through Friday.