In this Season of Celebration, Disability Rights California is Pleased to Showcase 5 Local Artists With Disabilities
Disability Rights California (DRC) fights for the rights of people with developmental disabilities to make sure they receive services they are entitled to, are not segregated in education or employment, and are not forced to live away from society in hospitals or institutions.
When people with developmental disabilities are included in the broader community, everyone benefits. We can share experiences, learn from each other, and help lift each other up.  DRC is proud to continue to advocate for and create a more equitable community for all people living with disabilities. 
Background
This month, as we celebrate and give thanks, we are excited to showcase local artists from Southside Unlimited's Work of Art galleries which works with artists with developmental disabilities and has been providing opportunities for artistic expression since 1986.  Their gallery in Country Club Mall in Sacramento was the first gallery operated by people with developmental disabilities in a commercial mainstream mall.
Over the past few years, you might have also noticed some artwork being showcased by our Public Policy team at our annual Legislative Awards event.  You can see some these artworks, which were presented as 2021 Legislative Awards, here: https://www.instagram.com/p/CZP6nqXvBDh/
We are also delighted that these 5 new works of art now decorate our Sacramento office and will be showcased on DRC's social media!
Get to Know Some of the Artists
Jemel Williams
Jemel painted "Pink Moon Dreams," a work of acrylic on canvas that depicts a beautiful skyscape with clouds hovering above a deep red sunset and a young girl on a swing hanging from a giant, pink moon.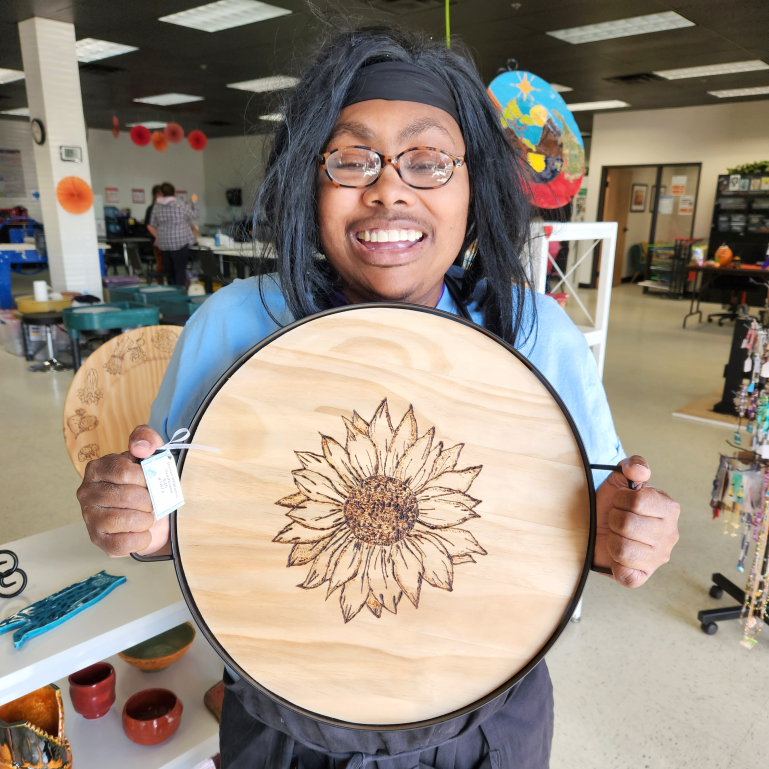 When asked what inspired her to create this art work, Jemel said, "Wouldn't it be cool to see a pink moon?" She went on to explain that she "loves doing art with night skies. I like imagining being an astronaut."
Jemel shared that she used a technique called color blending to create this painting, and she choose dark blue for the sky so that the stars would shine more brightly.
She hopes that people feel happy when they look at this art work and enjoy imagining the fun of swinging from the moon and being among the clouds! She shared, "I want people to have deep imagination like I do."
Jemel has been making art for 22 years at Southside Unlimited. She also works in ceramics and woodburning. She shared, "It's calming when I work on art."
Jemel has lived in Sacramento since 2000. When she's not making art, she enjoys taking walks in the park, looking at nature, and watching the dogs run around. She loves animals and has had a variety of pets, including hamsters, turtles, and an iguana!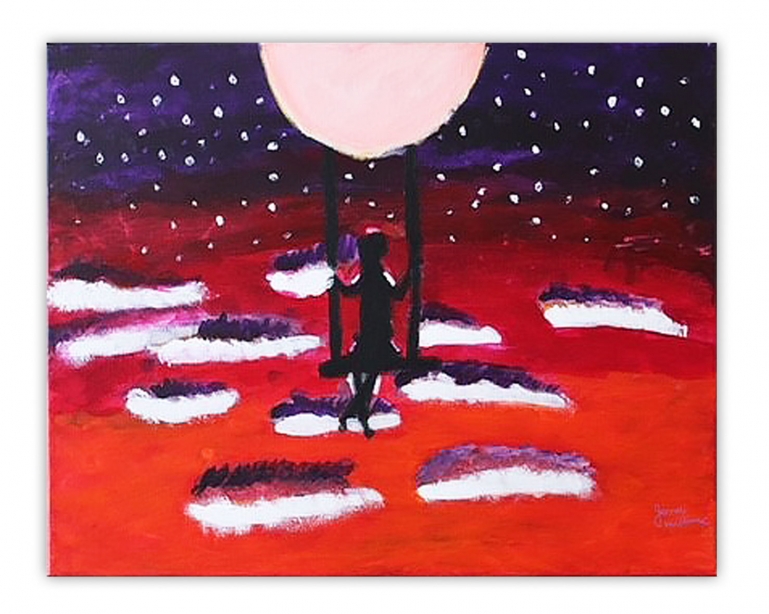 A'Tayvia Ashwood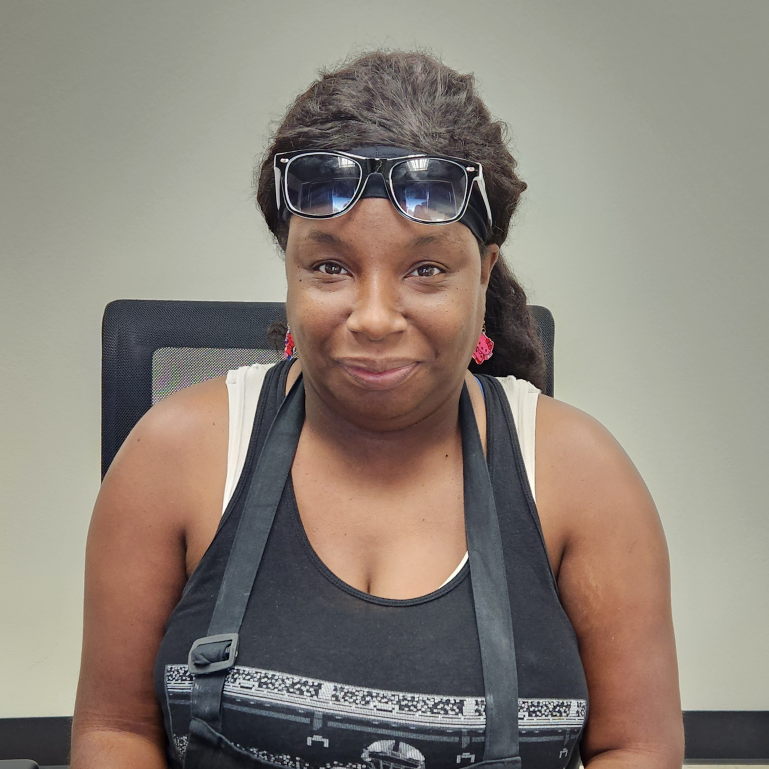 A'Tayvia painted "Tree," a painting done on paper that depicts a tree's trunk and branches with all of the spaces in between filled in with beautiful blues, reds, greens, and pinks, almost like a work of stained glass.
A'Tayvia said she was inspired by the colors of the rainbow and the pretty leaves on trees. She said she hopes people feel "excited" when they see her art. She shared that she feels "awesome" when she is working on her art. She also works in ceramics and pays special attention to how she applies the different colors of glaze to create a blended effect. One of her newest projects will be making a ceramic artwork with cutouts for use with a candle.
When she's not at the Southside Unlimited gallery creating new art works, A'Tayvia enjoys having fun and roller skating. She loves pizza and her favorite animal is a Chihuahua dog.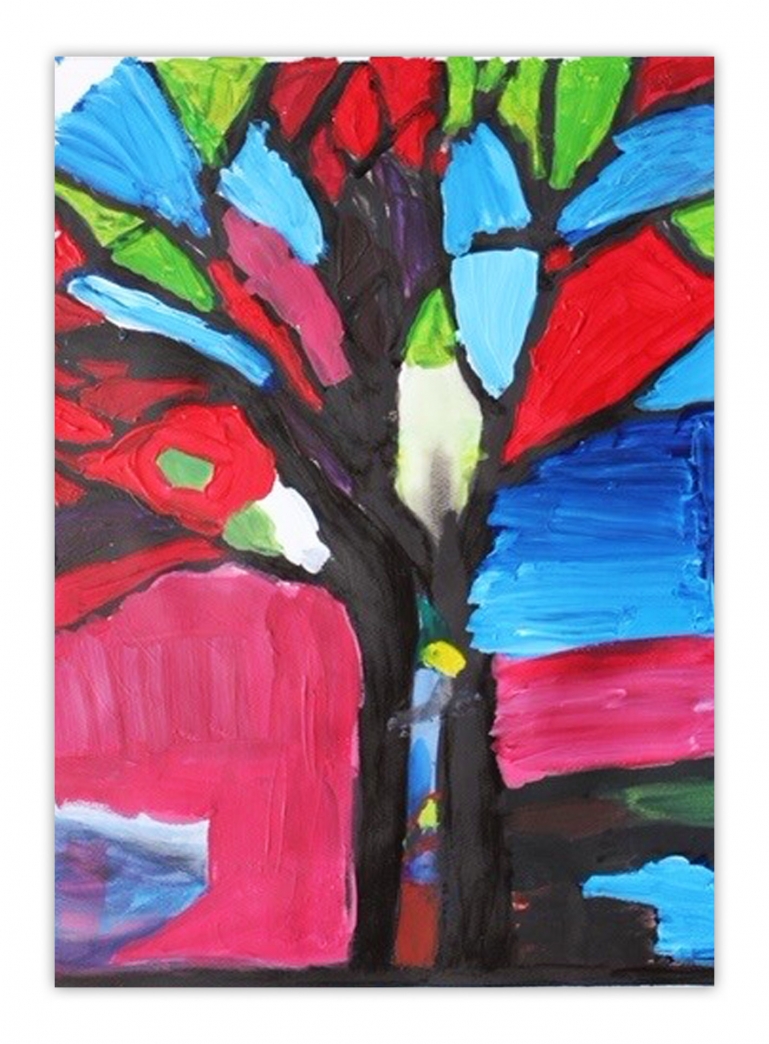 David Kossow
David painted "Galaxy," an abstract painting with swirls of colors against a black background. It may remind some people of the pictures of far-off galaxies that have recently been produced by NASA's James Webb Space Telescope.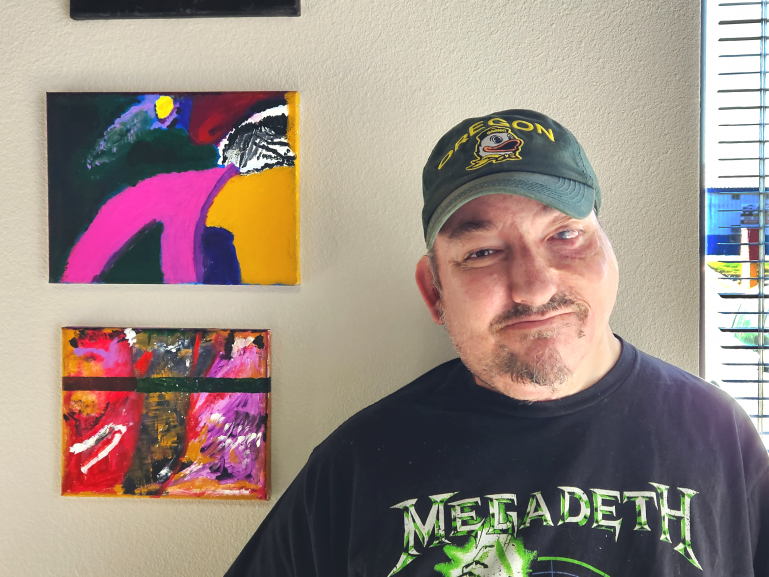 David shared that he made this painting using a special technique where he mixes colors in a cup and then carefully pours the paint over a canvas. He said for this painting he used his favorite colors: Blue, orange, and red. David's hope is that this painting makes people feel happy and inspires them to go out and make their own art!
After not doing art for a while, David only recently took it up again about six months ago. He said he loves coming to Southside. He enjoys working on a piece and seeing how it turns out when it's done.
When David isn't working on his art, he likes hanging out with his dog, Rollo, whom he adopted a few months ago. He has fun trying to get the ball away from Rollo and making sure Rollo doesn't annoy his cat too much.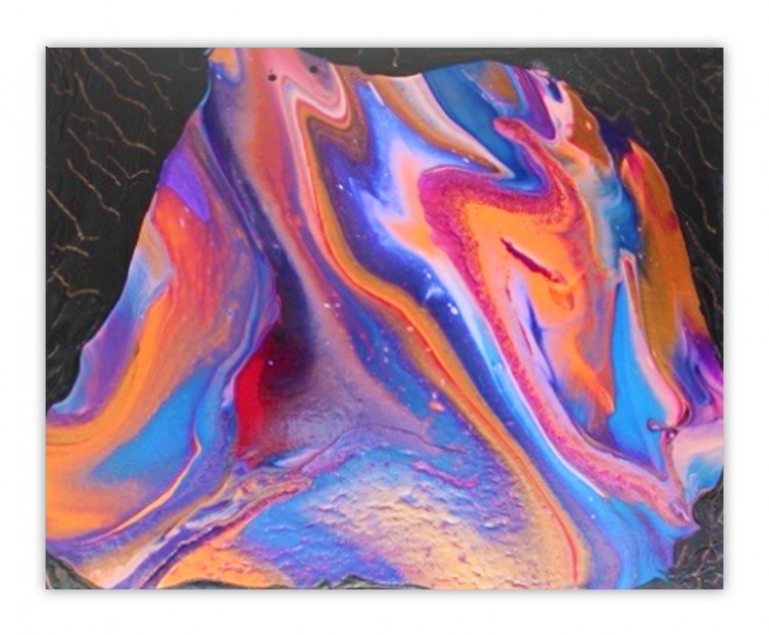 Other Artists' Works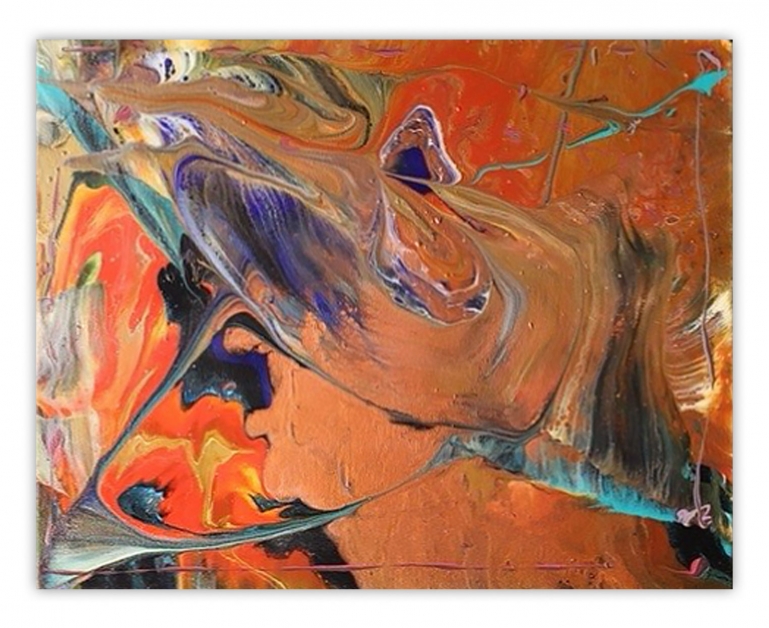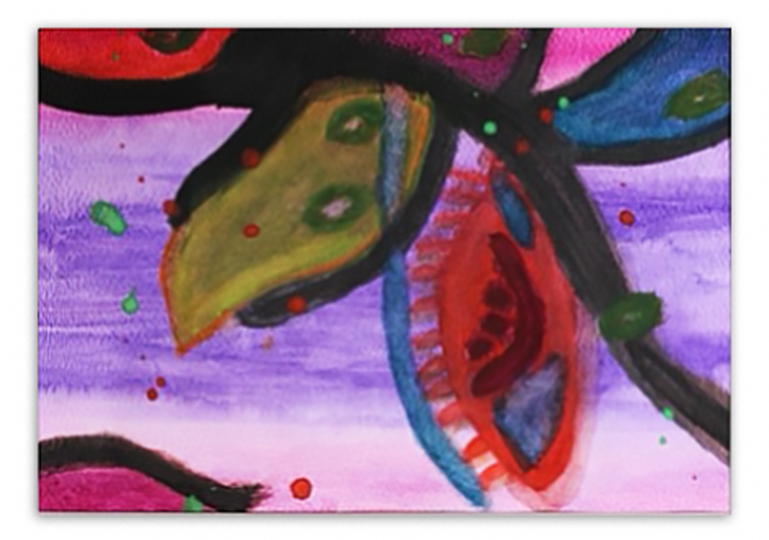 Stay Connected with DRC on Social Media Where We'll Be Sharing these Artworks!
Be sure to follow DRC's social media where you may see these artists and their artworks featured in upcoming marketing campaigns!