Disability Rights California's Voting Hotline Is a "Lifeline" for Voters with Disabilities
A quarter of all Californians have a disability, and it is estimated that close to four million of them are eligible to vote. That represents a large and important group of voters who are deeply impacted by lawmakers and policies that depend on how many people vote for them.
A quarter of all Californians have a disability,1 and it is estimated that close to four million of them are eligible to vote.2 That represents a large and important group of voters who are deeply impacted by lawmakers and policies that depend on how many people vote for them.
It is critical for all Californians that voters with disabilities have full and equal access to the polls. However, if you have a disability, that might mean that you encounter barriers to voting or difficulty finding instructions about how to cast your vote.
That's why Disability Rights California has a Voting Hotline!
What DRC's Voting Hotline Is & How DRC Advocates on Voting Issues Across California
DRC's Voting Hotline uses a toll-free number that anyone can call. Calls are answered by staff from DRC's Voting Rights Practice Group, as well as by staff from other parts of DRC who receive training to answer basic questions about voting. The Hotline is designed to give information, advice, and legal assistance to any Californian having difficulty voting due to a disability.
DRC started the Hotline in 2004 and, at first, received only a few calls each election cycle. As the years went on, DRC continued to operate the Voting Hotline and also focused on new ways to get messaging out that DRC is here to help, which increased the volume of calls and the complexity of issues DRC handled through the Hotline.
Fred Nisen is the managing attorney for the Voting Rights Practice Group, which has staff throughout California. The Voting Rights Practice Group is busy all year long, including in years without major elections, making sure voters with disabilities are able to make their voices heard at the ballot box, and that voting is accessible across California.
The group's advocacy efforts include individual representation for people with disabilities; outreach and trainings for voters, community partners, and elections officials; and various forms of advocacy at the local, state, and national levels to improve voting accessibility for people with disabilities.
In 2015, Fred had an idea: What if we ask county elections offices to print our Voting Hotline number in the official election guides that are distributed to all registered voters? Many counties began putting the Hotline number in their printed guides, and, as a result, DRC began getting a lot more calls from voters looking for support and information about voting with a disability.
The Voting Hotline Helped Many Voters during the 2022 Midterm Elections
Leading up to the June and November 2022 statewide elections, DRC worked hard to communicate important information to voters, and voters reached out to DRC through the Voting Hotline in tremendous numbers.  We also promoted various resources and ways to get help through outreach events, our website, and social media channels. 
On Election Day for the November 2022 election, a very special "guest hotline operator" made an appearance on social media to remind voters that "operators are standing by!" Flora is the beloved cat of staff attorney Karie Lew, and social media posts featuring Flora received over 15,000 views!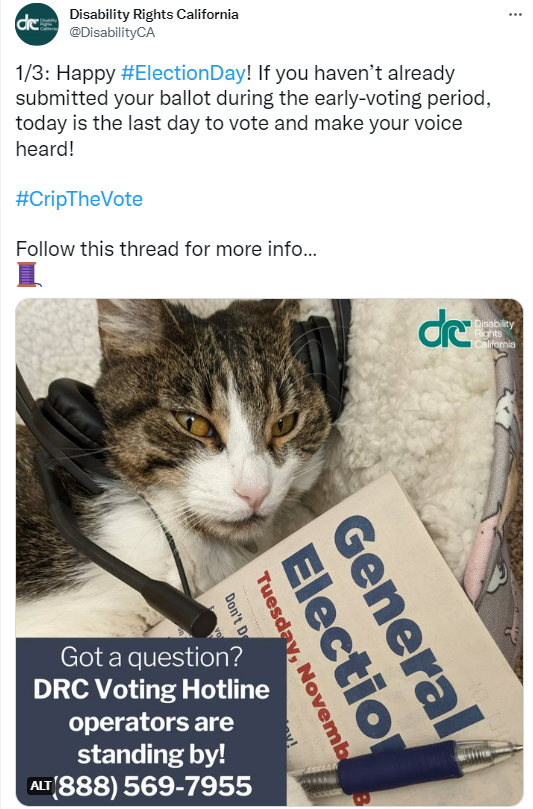 For the June and November 2022 elections combined, the Voting Hotline team answered calls from approximately 185 callers, helping approximately 107 voters with disabilities. (The Hotline sometimes receives calls from voters who do not identify themselves as having a disability, and staff strive to answer their questions, too.)
Disability-related questions that commonly are asked in calls to the Hotline include the following:
Will my vote be counted if my signature has changed?
What if I no longer can sign my name due to my disability?
What are my voting options if I cannot get to an in-person voting location on my own or cannot return my vote-by-mail ballot on my own?
How do I get a ballot when I have had a medical emergency?
How does remote accessible vote-by-mail (RAVBM) work, and will it help me?
How do I correctly mark my ballot with my voting selections?
Can I request my voter information in an alternative, accessible format?
Fred shared two examples of how the Voting Rights Practice Group helped voters who called the Hotline for the November 2022 election and whose cases required substantial advocacy: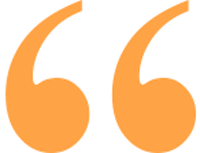 "We used our relationships with elections officials to ensure that eligible voters with mental health disabilities were able to exercise their right to vote in jail. We also helped to ensure that a blind voter was able to cast her ballot shortly before the polls closed."
– Fred Nisen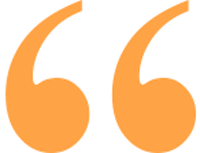 "We Are Like a Lifeline"
What is it like on the "frontline" of DRC's Voting Hotline? Just ask Carmen Torres, DRC's bilingual receptionist in our Los Angeles office. She has been volunteering to work the Hotline for the last three years and shares, "You never know what to expect."
Issues that Carmen has helped with have ranged from voters not knowing where to go to vote or drop off their ballot, to needing help with transportation to the polls. Some voters weren't sure where to sign their name on their ballot return envelope. These were all questions that Carmen could help with.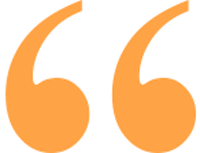 Carmen shared that one of the most common comments she received while working the Hotline was simply that "people were very happy to get a live person." Carmen continued, "Most of the time we are able to help. I like that we're able to help – we are like a lifeline."
– Carmen Torres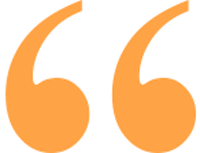 Helping people be able to vote is nothing new to Carmen. In fact, she's been helping people since she was in junior high and high school, when her mother volunteered at a voting center and Carmen helped by being her mother's Spanish interpreter.
Carmen, who has a physical disability herself, shared, "It makes me happy that we can help. Even though they have challenges, we can help them. They want to vote – they should be entitled to it."
Make Sure You Stay Informed and Follow DRC on Social Media
You can learn more about your voting rights with resources and webinars from DRC:
Your voice and your vote matter! Reach out to DRC if you have questions. We are here to help!
You can also find our general Intake Line and online help form here
Follow social media about voting with these hashtags:
#DisabilityVote  #CripTheVote