Disability Rights California's New Art Mural for Sacramento's Wide Open Walls Festival
Featuring artist Raphael Delgado
Disability Rights California is excited to join Sacramento, California's Wide Open Walls mural festival.  This festival was founded in 2016 "bringing underserved neighborhoods public art that encourages a sense of pride and identity," the festival organization says.
Wide Open Walls believes, "Art is an integral part of the human experience, and can empower, inspire and transform lives." You can learn more about it here: https://www.wideopenwalls.com/about/history/
Disability Justice is About All of Us

Disability Rights California worked with Raphael Delgado to design and create a mural representative of the disability community.
We are excited to have this mural outside our Sacramento office and grateful to Raphael, who was mindful in his creation and inspired by representing how disability justice is about all of us. He created this piece inspired by Lady Justice, who is a personification of the moral force in the judicial systems, sometimes also referred to as Blind Justice as she is often depicted wearing a blindfold.
Of his mural on the K Street side of DRC's Midtown Sacramento building, Raphael shared that he wanted to create a "monument to justice and to disability rights."
Raphael's mural depicts a personification of Blind Justice, but, as he states, "this time we've interpreted it differently." The figure, whom he says also has nonbinary elements, uses a prosthesis in the form of a sword in place of one of their legs, and one of their arms is replaced by a wing, "meant to uplift and protect," says Raphael. A wing and a sword – perfect symbols for DRC as a P&A, or Protection and Advocacy organization.
"There's beauty, there's power," says Raphael. "I wanted to make [the figure] feel solid and strong," but, he continues, "There's delicate balance – it's delicate and strong at the same time." The colors Raphael used will also be one of the first things to catch a passerby's eye, as Raphael made a point of selecting bright pigments full of vitality and energy.
The figure's form employs Raphael's characteristic cubist influence, "geometrically broken down and reconfigured," a body with physical disabilities that make it no less strong and powerful. Raphael says this mural is one of the few out there that features a depiction of disabilities, and he wanted to paint it to bring awareness to something that isn't always easy to talk about. But, he says, "It's time to start including this imagery in these murals."
Delgado says his mural for drc was a joy to paint. "From the first dab of paint, people were saying thank you."
Background on Raphael Delgado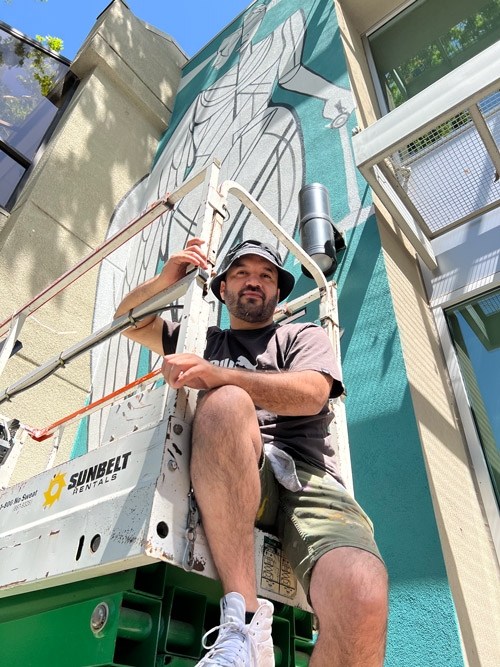 Raphael Delgado is originally from Oxnard, California, and has been based in downtown Sacramento since 2006. The son of an artist mother and a father who professionally framed artwork for museums and galleries, Raphael was surrounded by art as a child. It was common for him to see works by artists like Pablo Picasso and Diego Rivera around his home waiting to be framed by his father. This artistic upbringing inspired Raphael, and he would go on to study art in San Francisco before settling in Sacramento.
Since coming to Sacramento, Raphael quickly became a leader in the art community, and he has been recognized as Artist of the Year by the Arts and Business Council of Sacramento, 40 under 40 by the Sacramento Business Journal, and he was featured in Comstock Magazines Young Leaders of the year. In addition to being a muralist for Wide Open Walls, he also serves on their board of directors.
Raphael's colorful, cubist style and abstracted interpretations of people and animals have become an iconic part of the Sacramento street art scene. Sacramento residents and visitors may be most familiar with his "California bear," located on 21st Street between O and N Streets.