Esther Darling et. al. v. Toby Douglas
Director of California Department of Health Care Services (formerly Brantley v. Maxwell-Jolly and Cota v. Maxwell-Jolly)
If you or someone you know has been denied Community Based Adult Services (CBAS), the program that was replaced Medi-Cal ADHC on March 1, 2012, Disability Rights California has put together materials to help you understand your rights and how to file an appeal of the denial. Contact Disability Rights California to receive a copy of these materials, by calling 1-800-776-5746 or emailing darling@disabilityrightsca.org.
Latest Information Regarding Settlement
Court gives preliminary approval to ADHC settlement; sets Fairness Hearing for January 24, 2012
The court has taken the next steps in the settlement of the Adult Day Health Care class action case (Darling et al v. Douglas et al) filed by Disability Rights California and other advocates.  Preliminary approval of the settlement terms has been given and you can read the notice explaining your rights, options and deadlines to act .  You can also read the court order outlining the terms of the settlement . A Fairness Hearing about the settlement is scheduled for January 24.
August 12, 2012: What's going on with the transfer to Community Based Adult Services?
Listen up to the August 12, 2012 RadioAlice interview of DRC attorney Elissa Gershon about the serious difficulties former Adult Day Health Care clients are having in qualifying for the new Community Based Adult Services.
Related publications
Summary of Case Developments from Annual Report 2011
DRC lawsuit prevents governor from eliminating Adult Day Health Care
On November 17, 2011 we reached a settlement in Darling v Douglas, which ensures that the state of California will continue to provide center-based services for low income people with disabilities who qualify for Adult Day Health Care. "This is great," Esther Darling said. "I have fought to stay out of a nursing home and have been able to do it because of ADHC." DRC lead counsel, Elissa Gershon who negotiated the settlement with co-counsel, described the resolution as critical to "preserving the rights of people with disabilities to the support necessary to stay in their own homes and be part of their communities." The settlement obligates the state to continue the ADHC-like services, now to be called Community Based Adult Services (CBAS) for those who need them to stay out of hospitals and institutions, and to offer managed care for those whose needs are not as acute.
This victory was the culmination of a long fought battle that started in 2009 as the Governor searched for services to cut from California's shrinking budget and chose Adult Day Health Care. The reaction was outrage all over the state: it became clear that the 300 ADHC centers, used by some 35,000 people, are firmly rooted in their communities and provide much more than the sum of their services. Esther Darling, the feisty 74 year old named plaintiff of this case, attended demonstrations, hearings and press conferences to talk about the center in Davis, where she has been going for 15 years to get her heart checked, her blood pressure and diabetes monitored and take most of her 14 medications.
Most but not all clients are older; all have complex medical conditions and disabilities. Many live with a family member who is able to continue to go to work because the centers are providing care during the week.
In 2009 DRC was granted an injunction to stop the state from a drastic reduction of ADHC. In response, the state announced that its new budget would completely eliminate ADHC in 2011. Rallies by hundreds of ADHC clients were held on the streets of Los Angeles and San Francisco in October, resulting in extensive local news coverage of many of the centers and their clients. Just weeks before the December 1 shutdown date of ADHC services, the case was settled, ensuring that thousands of Californians with disabilities can stay out of institutions and continue to live in their own homes.
Harry Cota dies, after fighting to save Adult Day Health Services (ADHC)
In 2009 the state significantly reduced ADHC services, placing thousands of Californians with disabilities and seniors at risk of being hospitalized or institutionalized. Disability Rights California filed a class action lawsuit to stop the cuts. Until his death on March 7, 2011, Harry Cota lived independently in the community with the support of ADHC.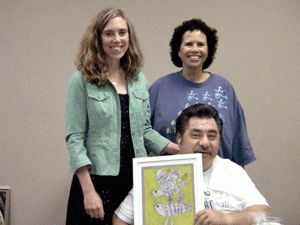 After the death of Lillie Brantley, the original named plaintiff in our ADHC case, Harry agreed to take her place. In 2009 the court issued an injunction stopping the cuts. Harry contributed many hours advocating against these cuts, including traveling from Hayward to Sacramento to testify about the importance of the services to maintaining health and independence.
In 2010 the DRC Board gave an award to recognize Harry Cota's passionate advocacy on behalf of his fellow Californians with disabilities who need these services. In the photo above, Harry receives his award from former Board President Dianne Millner, together with one of the lead attorneys for the ADHC case, Elizabeth Zirker.
Press Releases
Press coverage of lawsuit
SF Chronicle editorial says State must abide by agreed criteria for eligibility for Community Based Adult Services (CBAS) This July 11 editorial quotes DRC attorney Elissa Gershon in its straightforward statement that even though more people than the administration expected are qualifying for services, the State must honor its agreement. The agreement settled a DRC lawsuit (Darling v. Douglas) to keep State services intact for people who need them to remain in their homes and avoid more expensive institutions.
State must address adult-care issues, SF Gate.com, 7/11/12
Calif. many ineligible for new adult day care, SFGate.com, 7/10/12
State Under Fire for Adult Service Denials, Appeals, California Healthline, 6/14/12
Dozens arrested in Capitol protest over proposed budget cuts, Sacramento Bee, 6/13/12
Dozens arrested in Capitol protest over proposed budget cuts, Contra Costa Times, 6/13/12
Frail seniors program's launch brings confusion, delays for Californians, Contra Costa Times, 6/12/12
California Community-Based Alternative to Institutional Care Saved, Shriver Center, 5/17/12
State launches smaller program for adult day health care, PennLive.com, 4/3/12
State Launches Smaller Program for Adult Day Health Care, Bay Citizen, 4/3/12
Transition of Adult Day Health Care program is 'down to the wire', California HealthCare Foundation, 3/29/12
Adult Day Health Care end to cut off frail seniors, San Francisco Chronicle, 2/19/12
Judge approves substitute for adult day health care services,
Sacramento Business Journal, 1/26/12
Court Blocks California From Closing Health Centers, AARP News, 1/26/12
Could New Not-for-Profit Requirement Limit Patient Access? California Healthline, 1/9/12
California in retreat on social service spending, LA Times, 1/7/12
2009-2011 Case Archive (Press releases, media, pleadings, and more)