David Oster et al v. Lightbourne
Suit to Block Cuts to IHSS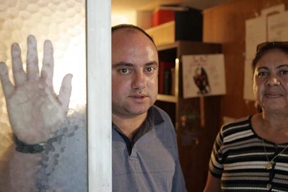 David Oster is among those who sued the state to block cuts to In-Home Supportive Services. He is pictured to the left with his IHSS provider, Julia Medina, in 2009. Credit: Spencer.
Oster v. Lightbourne is a lawsuit that Disability Rights California, along with co-counsel, filed in federal court to prevent deep cuts to the "In-Home Supportive Services" program, known as IHSS. The lawsuit was filed in federal court in Oakland in 2009. Federal Judge Claudia Wilken issued orders stopping cuts to IHSS in 2009, 2011, and 2012. Without those orders, "people could lose something irreplaceable—the ability to remain safely in their homes," said Judge Claudia Wilken. The judge added that these cuts would also have caused "incredible human suffering."
Key court documents:
2013 Developments
6/19/2013: 8% Across-the-Board Cut to IHSS
A new publication has been released, titled "8% Across-the-Board Cut to IHSS", publication #5524.01. This new 5 page publication helps answers some common questions like: does this cut apply to everyone on IHSS, is this a new cut, is this cut permanent, can I appeal this cut, what can I do to get more hours, do I need a note from my doctor to show that my circumstances have changed, will the cut still apply if my IHSS hours go up or down, what if I have an unmet need for IHSS that is documented, what is an example of an unmet need, and lots more!
3/19/2013: Settlement of the case is announced.
Lead counsel Disability Rights California, along with co-counsel, announced that they have reached a settlement with the state that will prevent the implementation of devastating cuts to IHSS. The settlement also resolves a second lawsuit challenging wage reductions for IHSS providers.
In the Oster lawsuit, IHSS recipients and their caregivers had won temporary court orders over the past 4 years that stopped the State from implementing cuts to IHSS. These cuts would have caused a significant reduction in hours, or complete disqualification from IHSS, for hundreds of thousands of current IHSS recipients. The State had appealed the earlier favorable court decisions, which meant that a higher court could allow the deep cuts in IHSS to go into effect.
The settlement provides a pathway to stabilize the IHSS program with new revenue and the possibility of restoring all cuts in IHSS hours (including the 3.6% cut that went into effect in 2009) over the next two years. The settlement requires the State to:
Replace the permanent 20% cut in IHSS hours with a temporary 8% cut in July 2013. This is an additional 4.4% on top of the 3.6% current cut.
Reduce the cut to 7% (3.4% on top of the 3.6% current cut) in July 2014.
Restore the hours lost from the 7% cut as early as the spring of 2015 if the State obtains federal approval of a provider fee which could bring significant new federal revenue to California.
Commit any savings from retroactive federal approval of the new provider fee to fund a program to benefit IHSS recipients.
The settlement also clarifies that IHSS consumers have a right to request a reassessment based on a change in circumstances, even if their change is not medical. The State has agreed to clarify that recipients will not be required to provide a doctor's note about a change in their medical condition to obtain a reassessment. This will help ensure that consumers who need additional hours will be able to obtain them.
David Oster is an IHSS consumer and the named plaintiff in the lawsuit. He says, "without IHSS, I would be lost… The uncertainty of the IHSS cuts was always in the back of my mind. If the cuts had gone into effect, I was worried that I would lose all my hours and not be able to stay in my home. The temporary cuts will be hard, but I know I will be able to remain at home and that is a relief."
3/28/2013: Disability Rights California filed a request with the court for preliminary approval of the Oster Settlement in Oster and Dominguez.
4/5/2013: Federal court grants preliminary approval to settlement, orders notice to class members.
The three-page class notice, posted below, tells you the details about the settlement and what to do if you object.
The deadline to mail in objections is May 3, 2013. We have a phone number seet up to give you information about the settlement. Please call 866-752-6679 and leave a message with your name, and telephone number and the best way to contact you if you want us to
answer your questions about the settlement,
mail you a copy of the class notice,
give you the notice in a different format if you are blind or you have a visual disability, or
give you a copy of the entire settlement.
If you call the number above, we cannot help with problems with your current IHSS hours or wages. For help with these problems, please call your county social services office, call your union, call your local legal aid program, or call Disability Rights California at 1-800-776-5746.
2013 Media
Settlement of IHSS lawsuit will prevent devastating cuts to home care services , Press Release. Also Available: SEIU California's Press Release, and State's Press Release
Supporting articles: Deal will avoid deep cuts in home care for elderly, disabled from Los Angeles Times, 3/19/13, In-home care cuts reduced under settlement from San Francisco Chronicle, 3/19/13.
2012 Developments
1/20/12: Judge grants preliminary injunction, stopping IHSS across-the-board cuts from going forward
Oakland, CA – Judge Claudia Wilken yesterday issued a preliminary injunction, barring the State of California from going forward with the 20% cuts in home care hours for hundreds of thousands of seniors and people with disabilities. She had previously issued a Temporary Restraining Order on December 1, stopping the cuts until the January 19 hearing. Read the complete press release here.
3/2/12: Judge cites likelihood of harm caused by 20% IHSS cuts, violation of the ADA and deficiency of notice in award of preliminary injunction
In the linked March 2, 2012 orders for Preliminary Injunction and Class Certification in DRC's Oster v Lightbourne class action suit, Judge Claudia Wilken provides background for the decisions. In brief, the likelihood of harm to the many recipients of In Home Supportive Services by a 20% cut in their hours was demonstrated. This likelihood of harm to health and safety, could result in institutionalization, violating the Americans with Disabilities Act. The judge also found the notice being sent by the state about the cuts was deficient in important ways: through omission and misleading language, it failed to inform recipients of the reason their hours were being reduced or how to rebut it effectively. Read the preliminary injunction here and the class certification here .
2012 Media
2011 Developments
Temporary Restraining Order stops IHSS cuts on Dec 1, 2011
On December 1, 2011, with only a few hours before massive cuts in IHSS were set to be implemented, Disability Rights California and other groups rushed to court and requested an emergency order stopping the reductions. A temporary restraining order ("TRO") was issued by a federal judge in Oakland later that same day.
The judge ordered the state not to take any actions to cut benefits, including changing its computer system or sending out notices to people who use IHSS. The Court further ordered the State to rescind the All County Letter that authorized the reductions.
The TRO stated that this significant cut in hours would place IHSS recipients "at imminent and serious risk of harm to their health and safety as well as unnecessary and unwanted...institutionalization." The Court found that State's proposed actions cutting benefits raise serious questions of violations of due process, the ADA and federal Medicaid law. The court has set a new date of January 19 for a hearing about whether the TRO will remain in effect and if all people who would be impacted by the 20% cuts can be treated as a class.
2011 Media
2010 Developments
June 15, 2010 - 9th Circuit Court of Appeals hears arguments about our class action lawsuit to stop cuts in IHSS based on Functional Index scores
Dozens of low-income Californians with disabilities and their family members gathered outside the James Browning Courthouse in San Francisco on June 15 to show concern about the hearings taking place inside. A panel of judges listened to arguments from co-counsel on the Oster v. Wagner case about why the state of California should not make cuts in In-Home Supportive Services (IHSS) according to the Functional Index scores of recipients. After Federal Judge Claudia Wilken granted an injunction, halting the IHSS cuts affecting hundreds of thousands of people, the Administration filed an appeal and the June 15 hearing was the result.
The public is welcome to listen to the arguments on the 9th circuit's website. Read a June 15 news story about the IHSS recipients and service providers who would be seriously affected by the cuts.
2009 Developments
Lawsuit is filed, October 1, 2009
The Oster v. Lightbourne lawsuit was filed on behalf of low-income Californians who need IHSS to remain safely at home. The goal of the lawsuit was to prevent impending cuts in the IHSS program. The plaintiffs include children with disabilities who need special care, an 81-year-old senior who needs IHSS to remain in her apartment, and a young man with autism and bi-polar disorder whose IHSS provider assists him with basic tasks.
Counsel in the case include
Disability Rights California
Disability Rights Legal Center
National Senior Citizens Law Center
National Health Law Program
San Diego attorney Charles Wolfinger on behalf of the IHSS recipients
The law firm of Altshuler Berzon LLP is also counsel in the lawsuit, representing unions including five SEIU locals and United Domestic Workers-AFSCME, whose members are IHSS caregivers and attendants
Judge halts home care cuts, says approach would likely violate federal law and cause "incredible human suffering" to seniors and people with disabilities who need these services.
October 19, 2009: People with disabilities, older people, and caretakers celebrated on October 19 after the Federal District Court Judge, Claudia Wilken, issued a Temporary Restraining Order prohibiting the State from sending out notices of action regarding the In Home Supportive Services (IHSS) cuts slated for November 1. She ruled that the state could not go forward on November 1 with its planned cuts of In-Home Supportive Services (IHSS) to an estimated 130,000 Californians because of the substantial harm, damage and injury which would result. The Judge said that the state's Functional Index rankings were clearly not based on need, that essential services could be withdrawn arbitrarily, and "people could lose something irreplaceable – the ability to remain safely in their homes."
Therefore, she enjoined all IHSS cuts as requested by people who use IHSS and local unions, in the class action lawsuit, Oster v. Lightbourne.
DRC Press release: Judge Halts Home Care Cuts: Says approach would likely violate federal law and cause "incredible human suffering" to seniors and people with disabilities who need these services, Press Release, 10/19/09
2009 Media