Landmark decision assures quality integrated community homes and supports for people with developmental disabilities
Sponsored by Bolton & Company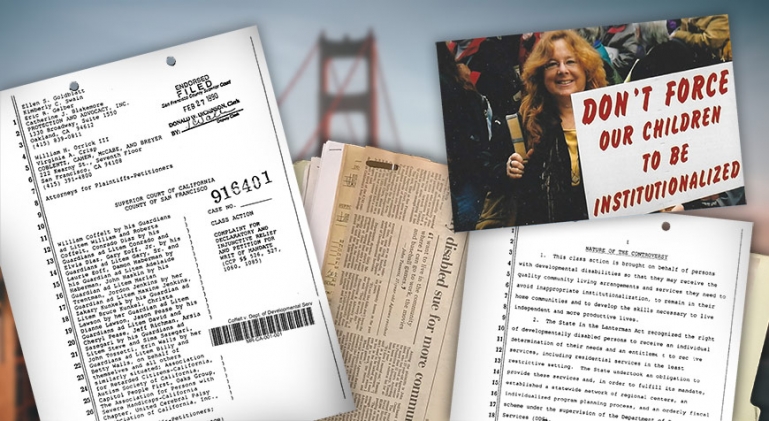 On January 19, 1993, before a packed San Francisco Superior court, Judge Stuart Pollak approved the settlement agreement in Coffelt v. Department of Developmental Services (DDS). The Settlement in this class action lawsuit – to move more people from institutions into the community – was the largest of its kind in the country. Protection and Advocacy Incorporated (PAI), (now Disability Rights California) filed the suit in February 1990 on behalf of 950 class members, 14 individual plaintiffs and six organizations.
Ellen Goldblatt was a senior PAI attorney and a lead on the case.
The services sought in Coffelt were already mandated by the Lanterman Act and other California laws. The lawsuit brought to light the fact that at least 2,000 out of 6,000 developmental center residents were institutionalized only because there weren't enough community resources to meet their needs. The settlement called for – and funded -- a five-year plan in which DDS and the regional centers were required to provide a number of things, including:
Develop quality community living arrangements and necessary supports for the individual plaintiffs, consumers moving from developmental centers and community target group members
Enhance the consumer-centered assessment and planning process for individual program plan (IPP) team and provide training for assessment personnel
Increase the variety of living options for consumers in the community
Develop emergency & crisis intervention services, including mental health and behavior modification services, to assist consumers to maintain their chosen community living arrangement
Monitor the quality of services and supports provided under the settlement
Decrease  number of people living in institutions by 2,000.
Ellen Goldblatt said following the settlement, she saw such positive changes in the clients represented.
Ellen said the settlement also gave people a new option – living in their own apartment instead of a group home.
Client Testimonials
Belinda was a woman with autism who left a developmental center to live on her own with a roommate. After three years, she worked part-time and went to school. Asked if she was happier after living in the community she said, "It's lovely. I can do my own shopping and laundry."
While living in a developmental center, Robert only ate by being fed through a gastrostomy tube. After getting medical care in the community, he could eat some foods. He also received extensive dental treatment he didn't get in the institution.
John lived in a developmental center for 38 years before moving into a community care facility with five other people. He couldn't speak. However his sister said he received more personal attention at his new home and showed a positive change.