DRC ensures people with disabilities get the In-Home Supportive Services they need
DRC work on Access to In-Home Supportive Services (IHSS)
The In-Home Supportive Services (IHSS) program in California serves approximately 550,000 people with disabilities, including seniors and children. The purpose of the IHSS program is to provide attendant care services to people who would otherwise be forced into institutions. It is the backbone of home and community based services in California. A unique aspect of IHSS is that family members may be providers—70% of consumers have a family member provider.
DRC has worked for decades on ensuring the program remains person-centered and effective, as well as accessible to people with disabilities. We have done so through individual representation in administrative hearings and litigation, impact litigation, legislative and public policy efforts, and community outreach and training. 
DRC wins suit over In-Home Supportive Services hours
Three days before Christmas in 1988, Luis Soto was shot in front of his home as he was getting into his car to go to work. In addition to his wife, he had a six-year-old daughter and a three-year-old son. The incident left him with a traumatic brain injury. His wife provided care for him through the In-Home Supportive Services (IHSS) Program. This allowed him to remain at home rather than live in a nursing home. After a review of his case in 2013, the county decided to cut the number of hours per month he received. He could no longer live at home without those hours. DRC attorney Elizabeth Zirker filed a state court lawsuit challenging the decision. In June 2015, the judge found Luis was eligible for the IHSS hours he had been receiving and was awarded back payments. Those payments went toward buying a home, providing Luis and his family with more stability.
Woman wins the right to live with her family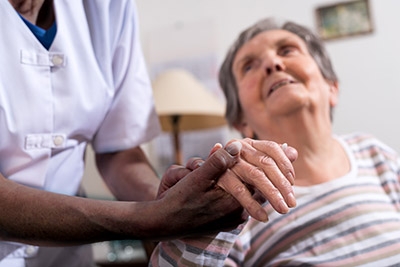 Lindsey is a 60-year-old woman with multiple disabilities who is happy living at home with her sister. She enjoys arts and crafts, music, and watching shows about traveling and food. Lindsey requires simple directions to complete everyday tasks. Her sister asked the county for protective supervision through the In Home Supportive Services (IHSS) program. This is a service for people with intellectual and mental health disabilities. The county denied her application, saying Lindsey was self-directing because she could follow simple commands. DRC Attorney Ali Nicolette filed a lawsuit in Superior Court, appealing the denial, and successfully argued that Lindsey needed protective supervision to remain safely at home. The judge awarded Lindsey retroactive protective supervision going back three years. DRC's advocacy means Lindsey can remain at home with her sister and in her community with friends and family. "Winning this case was more than exciting – it was a lifesaver for Lindsey and me," said Lindsey's sister. "Having protective supervision means Lindsey can live with me rather than live in an institution. Winning this case gave Lindsey and me a new life."