Napper v. County of Sacramento
Class action suit filed to stop Sacramento County
Napper case update: Sacramento County outpatient mental health services likely to continue until October
Disability Rights California and Sacramento County entered into an interim agreement in a class action case concerning the county's outpatient mental health services. A federal court had determined that the County's plan to cut outpatient services placed mental health clients in the County at risk of in-patient hospitalization.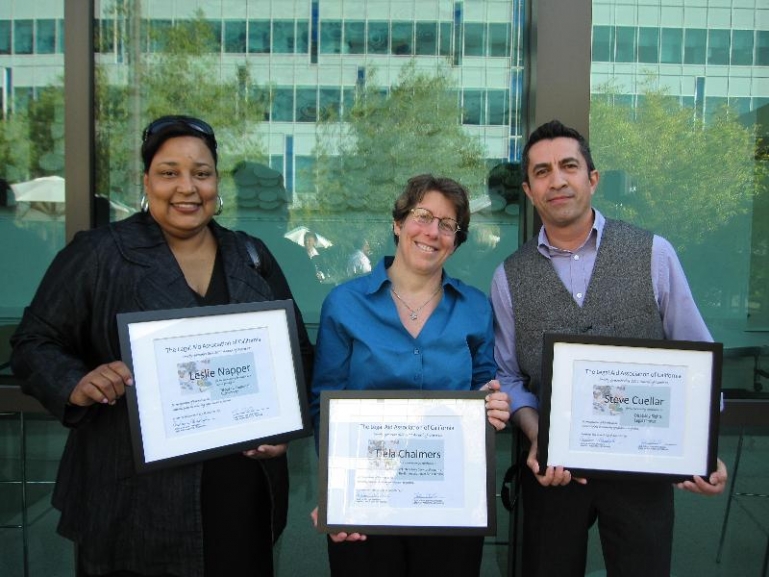 Photo: Left to right are client Leslie Napper, (Napper v. County of Sacramento) mental health advocate; Tiela Chalmers, executive director of the Volunteer Legal Services Program of the Bar Association of San Francisco; and Steve Cuellar of the Disability Rights Legal Center, based in Los Angeles.
In short, it was agreed that the services would continue until April 30, 2011 while an outside expert studied what services were necessary to help mental health consumers avoid hospitalization and institutionalization.
Because the study was delayed, we have now amended that agreement so that mental health outpatient services offered by Sacramento County will stay in place through June and most likely, through October 1. This will give the expert time to complete the study and provide time for those most concerned to respond to the study.
Our class action suit preserves outpatient mental health services
In the spring of 2010, rumors were flying that Sacramento County planned to close its outpatient mental health clinics. Leslie Napper and other clients became alarmed and asked us for help. We learned that to save money, the successful nonprofit clinics were to be closed on June 30 and reopened on July 1 with new services run by County staff.
After unsatisfactory meetings with the County, we and our co-counsel filed suit and a request for an injunction to stop the cuts. The U.S. Department of Justice filed a brief in support of our clients' motion stating that, under the County's proposed plan, they would experience a significant reduction in services and be at risk of being placed in hospitals and psychiatric inpatient facilities, in violation of the ADA's integration mandate.
"In my early 30s when I was first diagnosed with a mental health disorder, I was in disbelief, it just knocked me over." Leslie Napper, 41, said "it was hard to accept having this disability, and I bounced back and forth between different hospitals and facilities." Feeling depressed and discouraged, she thought about killing herself.
After bad experiences with health care providers who offered heavy medications as the sole treatment, a few years ago she found the Northgate Point Regional Support Team in Sacramento. The Northgate outpatient clinic approach offers more: psychotherapy and groups to help manage medications and side effects and to avoid self-defeating behavior. Plus, as Leslie points out, "Consistency of providers–I know them and they know me."
Leslie is fully responsible for maintaining a home with her elderly father who needs assistance with mobility. "My father depends on me… With access to my usual providers, I'm confident that I can stay on an even keel and avoid my previous need for inpatient services... If I fall apart and end up in the hospital, what might happen to him?"
In July, Federal District Judge John Mendez granted a preliminary injunction stopping the County from implementing its plan until the court determines that mental health recipients will continue to receive integrated services to avoid institutionalization. In November, we reached an interim agreement that keeps the current outpatient services in place at least through June 30, 2011 while an outside expert reviews best practices.
Stuart Seaborn, managing attorney, stated "We are pleased that the Court stopped the cuts and that the County has now agreed to continue services which are critical to preserving the mental health and safety of 5,000 individuals with psychiatric disabilities."
Read more about this case
Press Releases
Pleadings
Related news articles
Case settles: Sacramento County mental health clients will continue receiving support from their service providers
Approximately 5000 people receiving critical mental health services from Sacramento County will receive "continuity of care" from their regional support teams, thanks to a case settled January 23 by Disability Rights California, the Western Center on Law and Poverty and Cooley LLP. The case, Napper et al v. Sacramento County, was filed in 2010 in response to a County plan to abruptly close successful outpatient services and offer alternative services by County employees. See press release for full details and the the Stipulation of Parties to a Resolution of All Matters of Issue .
CA Legal Aid Association recognizes Leslie Napper, named plaintiff of our case to preserve Sacramento's outpatient mental health services
Sacramento County's expert report on its mental health program confirms ideas raised by clients in DRC lawsuit against the County - Read the full review by Nancy Callahan  here .
Update: what's going on with outpatient mental health services in Sacramento County since the Court issued an injunction?
The Federal Court Order
A federal Judge has stopped the County of Sacramento from moving forward with its plan to replace the four Regional Support Teams (RSTs) that now provide outpatient mental health services to roughly 4000 consumers in Sacramento County.  The County planned to begin closing the Regional Support Teams on August 1, 2010.  However, U.S. District Court Judge John Mendez ordered the County not to close the RSTs and replace them with County clinics until the County can show the Court that it will provide outpatient treatment in the most integrated setting. An integrated setting helps mental health clients to avoid being hospitalized or placed in psychiatric institutions.
What the order means for mental health clients in Sacramento County
If you receive services at a Regional Support Team, TCORE or the Wellness and Recovery Center, you will continue to get these services from the same provider after August 1, 2010.  Please ignore any notice from the County that tells you to go to one of the new County-operated "Wellness Centers."  If you need outpatient mental health services and are not yet receiving services, you can contact Sacramento County's Adult Access Team at (916) 875-1055, Toll Free (888) 881-4881 or TTY/TDD (916) 874-8070.
If you are a Sacramento County resident and you have problems accessing County mental health services or if you have questions about the lawsuit, you can contact the Sacramento Regional Office of Disability Rights California at 1-800-776-5746.
Next Steps
Now that Judge Mendez has made it clear that the County's plan is illegal, we will be working with the County to ensure that any proposal to change the outpatient mental health system in Sacramento County will not disrupt mental health services clients.  We will keep you informed and invite you to check our website at www.disabilityrightsca.org for updates.