2022 Annual Report - Diversity, Equity and Inclusion
Advocacy Victories

Diversity, Equity, Inclusion, and Access (DEIA)

At Disability Rights California, we will continue to move forward our strategic goal of demonstrating our values by championing and modeling diversity, equity, inclusion, and access reflecting the communities we serve. We continue to work throughout the state, federally, and nationally to promote a world and economy that is open and accessible to all people, with all types of disabilities, including people from intersectional communities and people who have significant support needs.

We remain committed to intersectional advocacy when serving and supporting the disability community.
Highlights

Disability Justice is About All of Us

Disability Rights California (DRC) was excited to collaborate with an artist to create a mural for Sacramento, California's Wide Open Walls mural festival in June 2022. The festival was founded in 2016, "bringing underserved neighborhoods public art that encourages a sense of pride and identity," the festival organization says.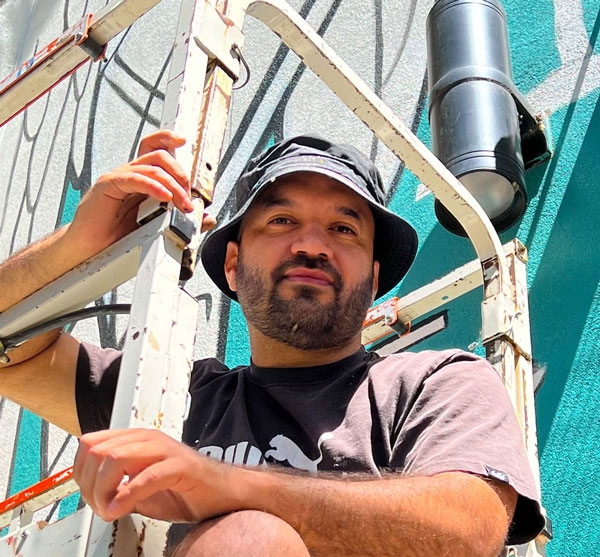 Disability Rights California worked with Raphael Delgado to design and create a mural representing how disability justice is about all of us. He was inspired by 
Lady Justice
, who is a personification of the moral force in the judicial systems, sometimes also referred to as Blind Justice as she is often depicted wearing a blindfold.
Raphael's mural depicts a personification of Blind Justice, but, as he states, "this time we've interpreted it differently." The figure, whom he says also has nonbinary elements, uses a prosthesis in the form of a sword in place of one of their legs, and one of their arms is replaced by a wing, "meant to uplift and protect," says Raphael. A wing and a sword – perfect symbols for DRC as a Protection and Advocacy (P&A) organization.
"There's beauty, there's power," says Raphael.
"I wanted to make [the figure] feel solid and strong,"
but, he continues, "There's a delicate balance – it's delicate and strong at the same time."
The colors Raphael used is one of the first things to catch a passerby's eye, as Raphael made a point of selecting bright pigments full of vitality and energy.
The figure's form employs Raphael's characteristic cubist influence, "geometrically broken down and reconfigured," a body with physical disabilities that make it no less strong and powerful. Raphael says this mural is one of the few out there that features a depiction of disabilities, and he wanted to paint it to bring awareness to something that isn't always easy to talk about. But, he says, "It's time to start including this imagery in these murals."
Celebrating
Mental Health Awareness Month
Members of Disability Rights California's Mental Health Employee Resource Group, Peer Self-Advocacy Program, and The Peer Connection came together to create a video for Mental Health Awareness Month to show the many faces of mental health titled, "What does Mental Health 'Look' like?"
They described the importance of creating this video because often, someone might think a person with a mental health disability has a certain "look," but they are
each unique in their own ways.
Sharing a video of our peers - people with lived experience with mental health disabilities, makes visible what is often an invisible disability. So, with this video, they described, "As people with lived experience, we face deciding whether to disclose our disability to others every day. Are we going to tell anyone, and if so, who, when and where? It's an important and sometimes difficult decision, especially since mental health has a lot of stigmas. We are out and proud and want to show you the many different faces of mental health. We want to encourage you to be open and talk about your own disability – it's a meaningful step toward stopping the stigma. It's the best way to increase awareness and understanding and get the support you need. We are not alone.  We encourage employers to note how many of these faces are employees just like yours. Then, hire new employees for who they are, based on their strengths and skills rather than the stigma and misunderstandings about mental health."
"We are here, we are everywhere – see us for who we are."
Celebrating Latinx Heritage
Disability Rights California (DRC) was excited to showcase some of our wonderful Latinx staff in honor of Latinx Heritage month.  As they describe, "We are very proud of our families' heritage, culture, and roots. We hope you enjoy our stories about our traditions, food, and language.  Please join us by celebrating the diversity that unites us."